If you're a building materials manufacturer with a website then you've likely asked yourself these questions: "What is a CMS? Why do we need one? Which one should we pick?"

Choosing the right content management system for your company can be tricky. There are many considerations that go into choosing the best CMS for your business, including what it does, how it integrates with third-party tools and how much time will be required to set it up.

Despite the questions that may come with a CMS, having one is essential as a modern business. Content management systems improve your content marketing workflow, enable you to create high-converting products and offer more control of your website's content.

In this article, we'll cover how to choose the best building materials CMS as well as some red flags to look out for.

CMS vs Page Builder: What Do I Need?
Let's begin by talking about the differences between a page builder and a CMS.

A content management system is a platform that makes it easier to build, edit and manage your website's pages. In fact, 63.6 million live websites use a content management system. For example, this is what WordPress (more on that later) looks like from the admin dashboard.
Page builders are user-friendy tools that simplify the process of designing websites by providing drag-and-drop interfaces for adding elements like text, videos, images or blocks of color without having to code. Here's what Weebly, one of the most popular website builders, looks like.
Page builders focus on ease-of-use for content authors to develop their own designs and layouts without relying on a traditional design and development process. The CMS, which is included in most page builders, is intended to be used as a way for content to be structured. Also, the design and development are supposed to be managed within the CMS so that content authors can't break branding, styling, and thematic consistency as the site grows.
How Do You Plan to Work With a CMS?
An important thing to consider is how your building materials company plans to use a CMS. Is it just for uploading blog posts and new pages? Do you have an agency taking care of content creation and editing? What you need a content management system for will change which one best suits your goals. Discuss these with your team to make the best purchasing decision.
Will You Be Localizing Your Website Content?
Do you translate content pages into different languages? If so, search for a CMS that enables your business to localize content and pages for different languages. The issue with relying on third-party plugins/apps for this is that they can break as the CMS is updated and introduce potential security flaws. They also don't tend to translate languages as well as certain systems that have localization built in.
Are Enterprise Features Mandatory?
The million-dollar question. You'll notice that content management systems commonly have packages and plans with an "enterprise" version. This will include fancy bells and whistles such as:

Active Directory/SAML user authentication

Built-in marketing tools like A/B testing and email marketing

Dedicated customer support agreements

Data connectors for internal systems, such as ERP/AS400

Advanced publishing workflows

Built in Digital Asset Management (DAM)
The question is, do you really need them? If your building materials company requires these features, consider that they include higher costs through more expensive monthly fees and license agreements.

However, don't be quick to purchase an enterprise CMS because of its big claims. Many times, simpler (but still robust) solutions like HubSpot's CMS can offer all of the tools you need with less headaches and costs. Choosing the right tool is a big decision and can influence every aspect of a business.

Red Flags To Look For When Choosing a CMS
You understand what to look for in a content management system. Now, let's take a closer look at what to avoid. The last thing you want is to pay for a CMS, train your team and have to remove it later.

Here are a few red flags to look for:

Lack of flexibility for scaling or adjusting available resources

Enterprise pricing and licensing models, even when not needed

Limited customer support or training

Contracts that are difficult to get out of

Poor CMS documentation making it difficult to use

No demos or free trials to test out the software

Infrequent updates and company communications
Don't be quick to opt for a custom CMS, either. While 43.6% of websites use a custom CMS, they can be much more expensive and complex to maintain. It also takes a long time to develop, making your company delay its goals and content production. You then have to rely on a developer for changes, makings it a challenge to find a replacement when needed.

Before making your decision on which system you need to use, reflect on these points with your team. It's best to go with what will work well long-term and offers the most value in return.

The Top CMS To Consider for Building Materials Manufacturers
Next, let's discuss four of the best content management systems to consider as a building materials manufacturer.
Craft is an award-winning content management system with a customizable backend, user-friendly interface and world-class localization. It's built for the needs of enterprise-level businesses, startups and web designers.

As a building materials manufacturer, you'll gain access to robust features like flexible templating and blog engine integration. You can switch between modules including SEO, social media marketing tools or customer relationship management (CRM) systems which provide more than just drag & drop CMS capabilities.

Craft CMS comes bundled with API integrations so that you can connect other tools, software and platforms to save time and resources with great connectivity. It's priced competitively at $299 + $59/yr.

Next up is Webflow. This content management system has been disrupting the industry and making a huge name for itself.

This is our choice for hosted page builders, as it provides flexibility for producing beautiful designs without sacrificing page speed. Its interface is both intuitive and feature-rich, appeasing designers & developers who want to tweak every detail.
There is a free package you can try and "Site plans" range from $12-36/month. "eCommerce plans" are priced between $29-212/month.
While design and development is Webflow's main purpose, it includes a CMS allowing you to create content such as blogs and product pages. Some of the pros of Webflow are:
High Google Pagespeed Scores and scalable

Great user interface for developers, marketers and content creators

Content management system included plans above "Basic"

More affordable than other platforms

No servers to manage & no code to write
Disadvantages to Webflow to keep in mind are:
Locked to monthly subscriptions and cloud servers

Limited field types, lack of user registration, and hard-limits on functionality

Can't query data in custom ways (E.g. filters and custom searching)

No migration path away from platform
Umbraco is a great choice if your company has strict requirements to remain in a Microsoft-centric ecosystem. The system is highly flexible, mature and reasonably priced. Umbraco offers many benefits of an enterprise-level CMS without the hassle.

Umbraco scales well for large enterprises and has built up a strong community around its ecosystem. They have good governance for release processes, production-level testing suites, code reviews and security audits.
You can try it for free to see if it's right for your business and its "Umbraco Professional" plan is $7,250/year or $604/month.
Umbraco Enterprise is an effective open source CMS with great flexibility and customization. However, you will also gain access to localization, workflows, Active Directory integration and a powerful search engine which can make it a worthwhile investment.
Sanity is a headless CMS with a focus on speed and extensibility. A headless CMS acts as a content repository that helps you deliver content to a front-end or device via APIs. In particular, Sanity's user interface is fast, reactive and robust. It brings along less common headless features, such as live preview, real-time editing, plugins and more.

Sanity provides an intuitive visual interface for content authoring with a drag-and-drop system and the ability to export your project as HTML or Markdown. You can also implement prebuilt plugins that make it easy to add features like pricing tables and responsive layouts.
There is a free plan you can try but the "Advanced" package starts at $199/month—putting it in the middle of the cost spectrum.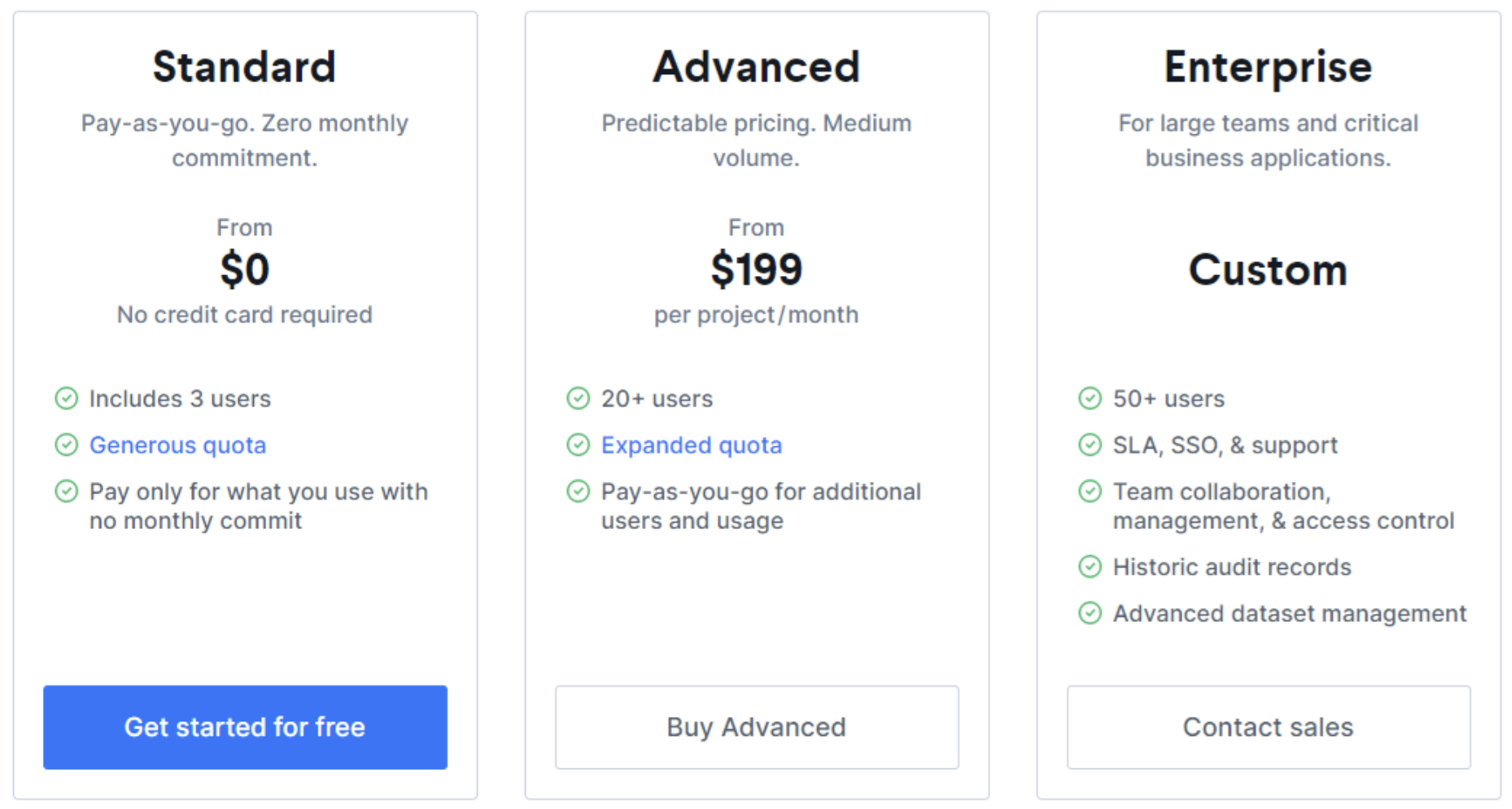 Some of the pros of Sanity include:
Powerful authoring tools

Plugin and extensibility support

Powerful revision history and real-time collaboration

Multi-channel content API

Enterprise-level features can be acquired at higher-tier plans
On the flip side, these are some of the downsides to Sanity:
Headless CMS is inherently restricted to pre-defined templates, so design changes will often require development work.

Certain customizations can be costly or impossible.

Limited documentation and a young community may limit access to skilled developers.
A notable omission from the above list is the incredibly popular platform, WordPress, which might be surprising to some — especially when WordPress currently powers an impressive 55% of all websites using a CMS.
It can't be all that bad, can it? Don't get us wrong. It has many upsides including a massive community and extensive library of plugins.. Also, WordPress is known for finding ways to improve the familiar platform rather than forcing users to learn a new tool. Nonetheless, it has some serious downsides to be aware of.

First, WordPress has a steep learning curve for content authors. It can be difficult to understand for those who are new to the platform. You have to install or develop a theme, an array of plugins and learn how to navigate its dozens of areas.

Second, WordPress offers limited customization options in their core installation. The platform is based on themes that provide your site's layout and design as well as plugins that extend functionality.

You'll need at least one plugin per function you want to implement because advanced features aren't built into WordPress itself. That also means it adds overhead to your website and can drastically reduce website performance.
Thirdly, 90% of all hacked content management systems are WordPress. Scary, right?
Plugging security holes isn't easy either due to all of its different components that come together in order to make the CMS work. WordPress itself, along with the themes and plugins, require constant maintenance. When they are not updated, elements of your site might break and potentially make the entire website unusable for customers.
How To Select the Best CMS for Your Needs
Every building materials manufacturer can benefit from having a content management system. They help you manage SEO, localization of content, website security, marketing material and more. These features are crucial in a time where digital assets constantly need updating.

Having the right tool makes life easier by handling all these complex tasks efficiently across your entire organization. A few of the best options available include Webflow, Craft, Umbraco and Sanity. We recommend reflecting on your company's needs, goals and budget. Compare that to the pros and cons we outlined of each major CMS to make the best purchasing decision.
Looking for additional help? Learn more about Venveo's digital marketing services that can help you generate more leads and sales revenue.