Mandy Sancic visits the show to share exactly how she leveraged Instagram to increase her company's followers from a few thousand people to more than 12,000 — and counting.

More About This Show
The Smarter Building Materials Marketing podcast helps industry professionals find better ways to grow leads, sales and outperform the competition. It's designed to give insight on how to create a results-driven digital marketing strategy for companies of any size.
In this episode, Zach and Beth talk to Mandy Sancic, co-owner of Olde Wood Limited, which manufacturers reclaimed wood for flooring and other products.
Mandy shares specific details on the company's successful Instagram efforts and gives insights into the do's and don'ts for other building material manufacturers about to venture into social media.
___________
About Mandy Sancic and Olde Wood
Mandy and her husband Tommy started Olde Wood over 20 years ago by dismantling barns, and the company has now grown into a full manufacturing operation with 120 employees in Magnolia, Ohio. In fact, they're currently building a facility that is twice the size of their existing space, where they'll continue to ramp up production of reclaimed hardwood flooring, fireplace mantles, timbers and more.
Today, one of Mandy's many focuses (and possibly her biggest obsession) is growing Olde Wood's social media efforts, which gives the company a chance to make real connections with potential customers and even people who might not buy now, but still advocate for them nonetheless. Mandy describes her social media strategy as a handshake and the entire company takes it seriously.
How to Triple Your Instagram Following in 5 Months
At the beginning of 2018, Mandy had Olde Wood's Instagram account linked to their Facebook account, and whatever she posted on Facebook would automatically push to Instagram without much more thought. To show what a difference a year makes, it now goes the other way, and she thinks Instagram first and then pushes to Facebook. Why? She's having better engagement and better conversations on Instagram.
So what prompted Mandy to make the switch? At one point, she logged onto Instagram and realized she had a DM (direct message) from an influencer asking her to collaborate. It actually took her a few weeks to realize the message was there, and when she researched what it meant to collaborate with a social media influencer, she was hooked.
In fact, it's through the great relationships she's built with the influencers and partnering with them that Mandy attributes to the high growth rate of their Instagram following. By working with influencers and allowing them to help spread awareness and tell the story of Olde Wood, they started gaining a tremendous following because the readers and followers of those influencers wanted to know more about Olde Wood and engage with them along the way.
Mandy says that the best way to get good at Instagram is through non-stop learning because the platform is constantly changing. In those early days just a few months ago, Mandy learned a lot of best practices from The Design Twins.
Eventually, she wound up partnering with these social media gurus, and Olde Wood has even sponsored an event in Waco, Texas that hosted 50 influencers and aspiring influencers. The session taught the audience how to use Instagram for business growth while also placing the spotlight on Olde Wood.
Why Instagram?
Mandy helped her company's following to grow from just a few thousand followers to over 12,000 on Instagram—in just 5 months. But why did she decide that this was the social media platform to invest her efforts?
The answer became clear after consuming countless podcasts and webinars about the subject (including ours!). Industry experts concur that Instagram is the place to go to target several audiences in the building materials channel, and this claim definitely holds true based on the explosion of growth Mandy and the Olde Wood team have experienced this year.
Plus, the process is gratifying. Using Instagram is a way to get direct, personal interaction with your customers, no matter how large or small your company is. It's more important than ever to have a personal connection with your customers, and Instagram gives you a way to connect in a genuine way.
How to Approach Instagram
Many building material manufacturers are hesitant about using Instagram because they don't think their product is necessarily photogenic. However, by using lifestyle photos, you can make any product likable. You just need to find a photo that resonates with people and makes them feel like they could live with or in that product or space.
Don't just share a picture of a board of wood; instead, show the true potential of the product in a designed setting.
For instance, when you visit Olde Wood's Instagram page, you'll see a lot of beautifully styled living spaces that incorporate the product as a part of the room but is not the only striking piece.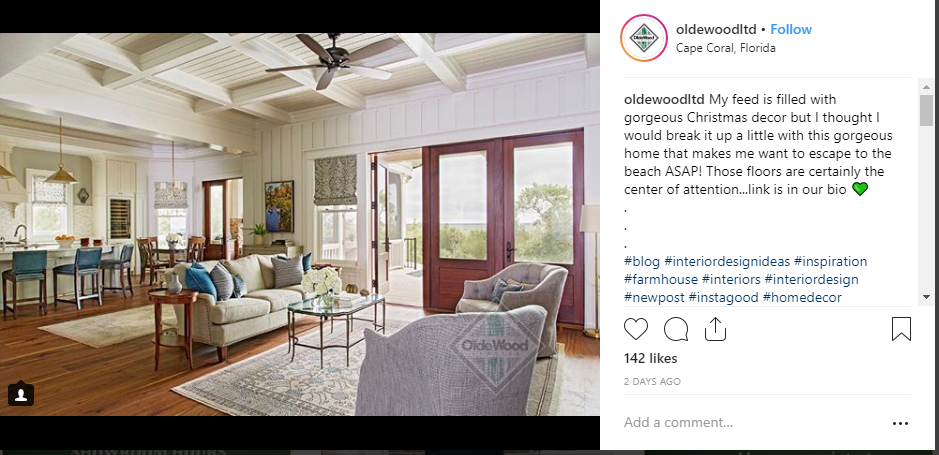 To gain even more traction on social media, try utilizing YouTube. As an example, Mandy has started a new series called "Discover Olde Woode." This gives customers and leads an insider's look into how the product is made and also shows that the company is being innovative and original.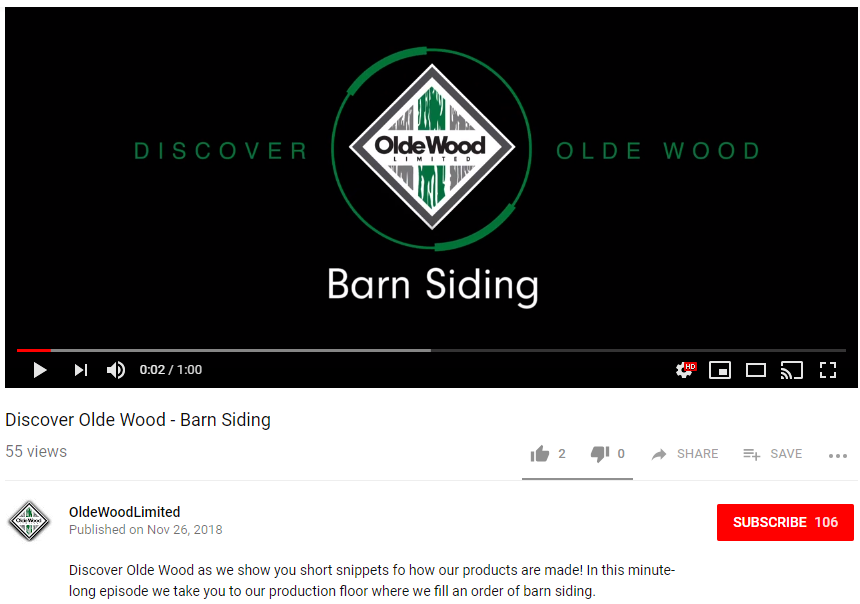 It's also important to listen to your followers. People aren't afraid to tell you what they like and don't like. Pay attention to the types of posts that your followers are interacting with and also know that not all platforms work identically. For example, Facebook no longer gets the engagement it did a few years ago. Thanks to Facebook's competitive algorithms, you may get only a few likes on a Facebook post that receives hundreds of likes on Instagram.
You should also pay attention to how your entire Instagram feed looks, not just each individual post. If your feed is overwhelmed by the same type of photo, viewers won't be able to focus on a single image. Instead, break up your feed with quote posts. They'll break up the monotony of the same type of image and help bring attention to other photos.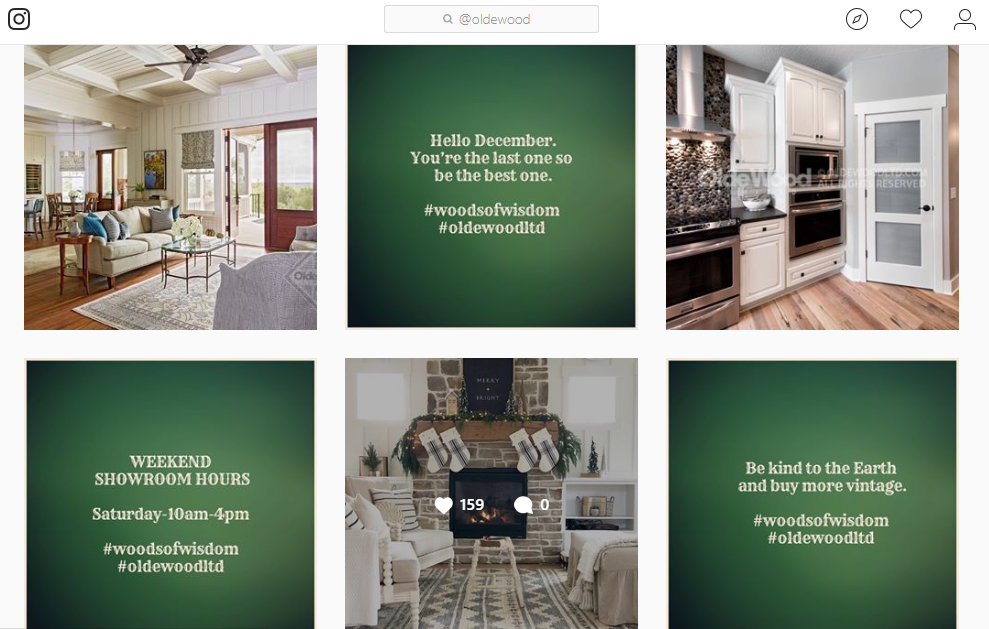 Getting Results from Instagram
It can be hard to quantify results from social media, but that doesn't mean you shouldn't use it. This year, Olde Wood tried a holistic Black Friday campaign where they used social media together with email blasts to create a marketing "pie," which resulted in sales growth.
While it can be difficult to measure Instagram's impact on your bottom line, if you pay attention, you'll find customers mentioning that they found your company or your product on Instagram. Manufacturers who aren't on social media are missing out on both leads and sales.
Social media has so many different channels, it's hard to believe that the audience isn't there. Between Facebook and Instagram, it's estimated about 95% of the American population is on social media. And don't forget about LinkedIn, which is predicted to be the next big thing in social media.
Like we mentioned in our podcast on social media, it's important to remember your employees in your social media use. Passionate employees can take your Instagram (and other social media accounts) to the next level. Try building a program to empower your employees to share their experiences on social media throughout the day. Or have them send images to a specific person who can use those on your official social media account.
Or you can encourage your employees to create their own Instagram accounts associated with your company. For instance, Mandy has encouraged her sales team to create Instagram accounts with the handle @name.oldewood, so they can share or repost their own content. They've also started utilizing LinkedIn more, sharing content and stories on that platform as well.
Advice to Other Building Material Manufacturers to Grow Their Social Media Presence
The biggest piece of advice we can give is to just get started. Don't be afraid and don't try to be perfect; it's not possible. Building a social media presence is like the business you've already built: It takes time to be great.
Don't forget, it's a constant learning process. If you're worried you don't know enough or don't have time, then find someone to help, even if it's your teenage kids.
And be realistic when it comes to influencer partnerships. They're a lot of fun, but these people aren't coming to you to pay for products. You have to give them something, whether it's free product or money. It's better to give influencers free product rather than money because then they'll create genuine posts about how they actually use your materials. If you simply pay someone $1,000, they'll post a few times but it may lose the authenticity your followers really want.
Think about the best way to handle influencers for your company because these partnerships can add a lot of value to your brand.
Getting Ahead on Social Media: What's Coming Next?
Mandy says her social media goal for the coming year is to get back to human interaction. Although social media often gets a bad rap for being "anti-social," Mandy disagrees. Her approach is to be authentic and transparent.
The best way to do this?
When you make an Instagram post, don't think about reaching all of your followers. Instead, post as if you are talking to one friend, which will make your content more authentic.
It's time to get back to real life connections. Some of your followers probably won't buy from you, but they may still like, comment and share your content. Even though they aren't customers, these people are still important. Consider sending them a swag bag as a thank you for being so involved. After all, followers who are that engaged with your content are a part of your team, whether they know it or not.
For more on how to engage with customers, check out our other podcasts. If you have questions on how to market to your audience, feel free to reach out to us at [email protected].
Show Notes Connect with Mandy by email at [email protected] or DM her on Instagram at @oldewoodltd.