In this episode of the Smarter Building Materials Marketing Podcast, hosts Zach Williams and Beth PopNikolov are joined by guest Matt Risinger, founder of The Build Show Network, a highly respected builder and content creator.
Throughout the conversation, they dive into the power of social media, the value of YouTube in the building industry and the importance of trust and credibility in a manufacturer's marketing.

02:23 - Where on social media builders are looking for new products
03:54 - Matt's YouTube followers and demographics
08:31 - How many think YouTube is not considered social media
10:09 - How videos helped gain trust and clients quickly
12:59 - Why manufacturers need to fill content gaps for builders
19:01 - Matt shares his thoughts on the current market
20:38 - How successful projects during the recession boosted income
22:43 - How manufacturer videos should address customers' pain points
Matt Risinger is the founder of The Build Show Network and a highly experienced builder with nearly 30 years of expertise in the field. At the age of 51, he has become a prominent figure on YouTube, boasting around a million subscribers.
With extensive experience in the construction industry, Matt provides a unique perspective on marketing and building materials. He is dedicated to changing the building world through his knowledge and expertise, as well as his mission to share valuable insights with builders and manufacturers.
Matt has become a go-to source for individuals looking to navigate the world of building and construction. Matt is also a repeat guest on the Smarter Building Materials Marketing podcast, having discussed how manufacturers can improve their relationships with builders.
The conversation started out with Beth mentioning that Matt disagreed with a stat she presented at a conference suggesting that Facebook is the most popular social media channel among builders, followed by YouTube.
Matt had voiced his disagreement on his Instagram Stories, sharing his own experience of how YouTube is the go-to platform for builders when it comes to gathering in-depth information and conducting research on building products and techniques.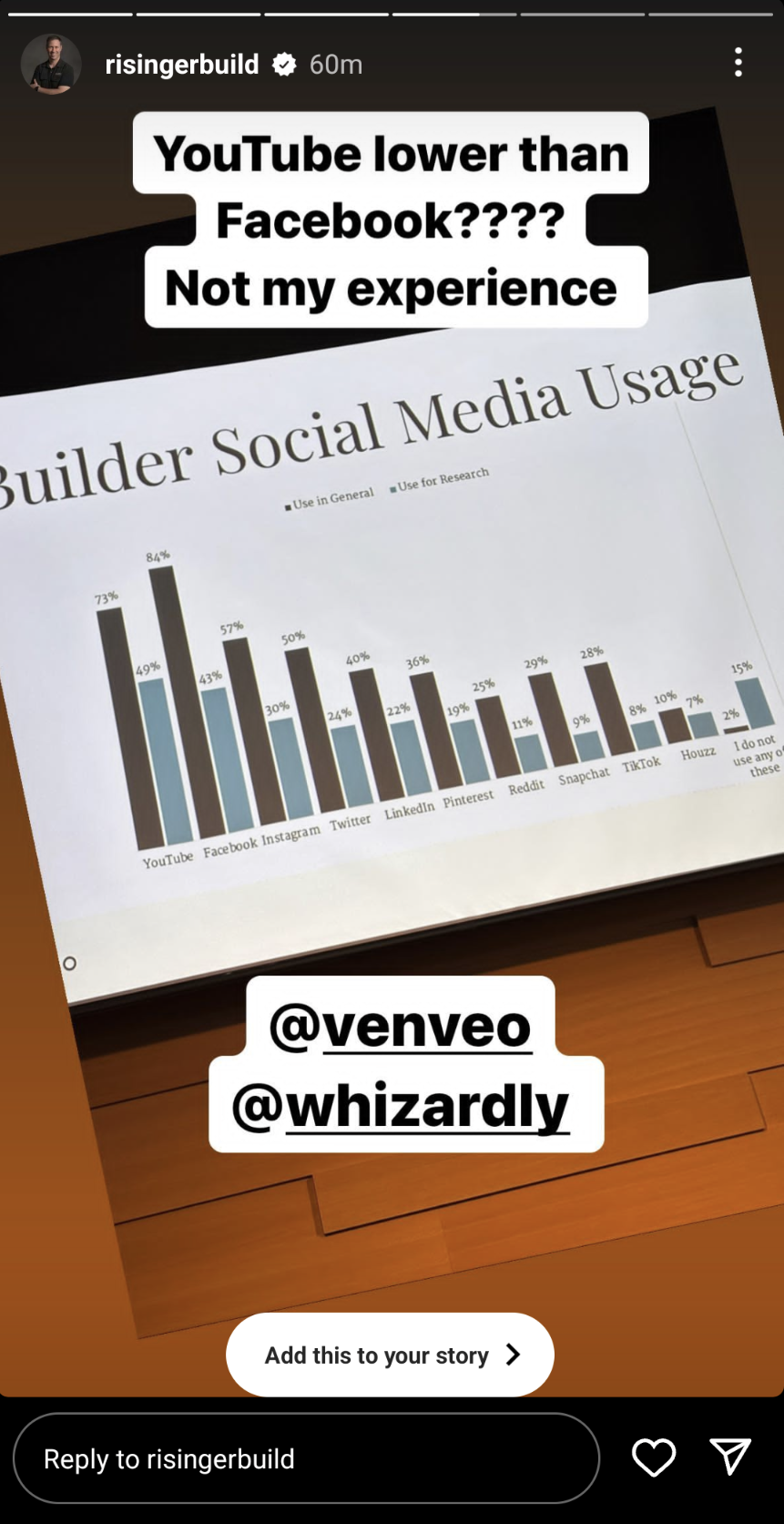 Matt pointed out that his YouTube audience comprises not only builders but also professionals and homeowners interested in building. He also emphasized that the construction industry is predominantly male, and this is reflected in his YouTube analytics. His perspective led him to question the accuracy and validity of the data Beth shared, as he believes builders are more likely to turn to YouTube for their information needs.
Beth, acknowledging Matt's insight, proposed that the term "social media" may be causing some confusion and bias in the data. While everyone recognizes Facebook as a social media platform, YouTube is often overlooked in this category. This may have resulted in YouTube's lower ranking in the survey. She also highlighted the importance of "intent channels" in reaching builders, arguing that YouTube serves this purpose more effectively than Facebook.
Matt wrapped up the conversation by urging manufacturers not to be discouraged by low subscriber counts or view numbers on YouTube. He stressed that the value of content on platforms like YouTube should not be solely measured by its reach, but rather its quality and the depth of information it provides.
He shared his personal journey on YouTube, where he started with a modest subscriber count of 2,500 and eventually grew it to over a million. This growth demonstrated that impactful content and building trust with the audience can lead to recognition and authority in one's field.
So, if you're a manufacturer looking to connect with builders, don't underestimate the power of YouTube. Focus on creating valuable, high-quality content that addresses their pain points and provides solutions. And remember, it's not just about the numbers, but the impact you make on those who engage with your content.

Matt praises Huber Engineered Wood for designating individuals as the face of their Instagram account. A recent video posted by Huber' tech team caught his attention, as it featured team members who are not typically in front of the camera.
---
"

It also brings a face to the company so that people go, 'Oh, I like those people.' It makes you feel like they're real people." - Matt Risinger
---
The video asked them about the hardest or funniest questions they've received in their roles, and it showcased the company's willingness to put something out there that resonated with their audience.
Matt emphasizes that the key to success is consistency and engagement, regularly showcasing your great products and people to build a loyal following.

Leveraging YouTube for Building Product Research
YouTube is a powerful platform for builders looking to research products and find the best solutions. Matt shares his personal experience of using YouTube to search for the best pellet smoker for his backyard.
---
"

When builders are searching for building products for information, they certainly go to YouTube." - Matt Risinger
---
He watched 10 videos on the topic and plans to consult blog posts as well. He cautions against underestimating the value of YouTube and the impact it can have on the decision-making process.
While some may think that social media platforms are only good for introducing products, Matt believes that YouTube, in particular, serves as a valuable resource for in-depth research.
He underscores the importance of manufacturers not overlooking YouTube and the potential it holds for connecting with their target audience.

The Power of Authenticity and Trust
When it comes to building trust with potential customers, authenticity is key. Matt shares how his videos help establish his credibility and build trust with viewers.
By watching his content, potential clients can gauge whether he is trustworthy and a good fit for their project.

---
"

Sharing videos allowed me to showcase my expertise and credibility. Prospects who watched my videos got a sense of who I am as a builder, and it saved us time in the initial meetings by skipping the doubts about my integrity."- Matt Risinger
---
He recalls having to overcome suspicions and questions about his expertise in the past, but through his videos, he is able to showcase his knowledge and experience. Matt emphasizes the importance of delivering valuable content that addresses customer pain points and provides solutions.
It is not about the number of views, but rather the impact and trust built through authentic communication.

When asked about virality and if it's a consideration when posting videos, Matt answers frankly — he doesn't think about it. If it happens, that is great, but it is never the goal. One video home run doesn't mean much in the broad scheme of things.
Outputting a consistent message, especially on YouTube where videos don't expire after 24 hours, should be a priority. People may watch a video posted from years prior because they are doing research on a product or a brand. That video still holds value, even if it didn't go viral.
Manufacturers shouldn't be going after big numbers as a measurement of success for videos. Instead, the goal should be addressing the pain points of your customers and delivering content that they actually need.
If you have any questions or would like to learn more reach out to us at [email protected]. Don't miss out on future episodes by subscribing to the Smarter Building Materials Marketing podcast today.

The Smarter Building Materials Marketing podcast helps industry professionals find better ways to grow leads, sales and outperform the competition. It's designed to give insights on how to create a results-driven digital marketing strategy for companies of any size.