Greg Weyman, the VP of Marketing & eCommerce for Basco Shower Doors discusses how building materials manufacturers can get started selling on Amazon and how they can leverage those customer interactions to improve overall sales.

More About This Show
The Smarter Building Materials Marketing podcast helps industry professionals find better ways to grow leads, sales and outperform the competition. It's designed to give insight on how to create a results-driven digital marketing strategy for companies of any size.
In this episode, Zach and Beth talk to Greg Weyman, Vice President of Marketing and E-commerce for Basco Showers and Enclosures.
Greg offers step-by-step advice on how building materials manufacturers can start and scale their Amazon efforts, along with common challenges to be aware of. Download the podcast to hear the whole conversation, or keep reading for all the main highlights.
___________
If you're like most building materials manufacturers, you're probably wondering how can you start or improve your sales efforts on Amazon. Instead of being scared of the behemoth that Amazon has become, alter that perception and view it as an incredible opportunity.
Read on to see how Greg and Basco Shower Doors launched and scaled their efforts on Amazon and tapped into incredible customer data.
How Basco Started Selling on Amazon
Greg's role originally started with overseeing Basco's marketing program, which had digital components sprinkled throughout.
While they did some minor product listing on big-box websites, online sales wasn't a main focus. But when they were asked to start focusing on driving online sales, they first turned to Amazon.
Although Greg and his team's approach when they started selling on Amazon was basic, they quickly started seeing results.
Their early success led them to think about how they could make their online sales better. How could they turn their Amazon presence into an even greater revenue generator?
Greg's experience has led Basco to optimize their approach utilizing a number of specific strategies.
Viewing Amazon as a Search Engine
When thinking about Amazon, it's important to note that it is, at its core, a search engine.
Greg viewed Amazon with this search engine mentality and started applying traditional SEO tactics to Basco's products. It wasn't long before they began to see improved ranking and sales on Amazon.
The team started by using strategic keywords and more product images to grow visibility. Then they continued to apply search engine best practices to each listing, such as building longer descriptions and using high traffic keywords. The benefits quickly became evident as sales went up.
Greg shared that you have to be intentional about getting your Amazon rankings to increase. You're not just competing to appear on Google search results pages, you're also competing against similar products directly within Amazon.
But don't worry. Both Google and Amazon's search algorithms share a lot in common, so if you research and implement best practices for one, you'll be tackling the other at the same time.
Focusing on One SKU at a Time
When implementing your Amazon strategy, your focus should be less holistic and more on a product by product basis.
Basco considers each SKU its own battleground and delivers a micro-strategy accordingly.
In total, Basco has about 10 checkboxes to hit in order to increase their ranking on the Amazon search results page. These include using multiple photos and a good description that answers any questions the customer might have—it's a win-win because these tactics boost search ranking and sales.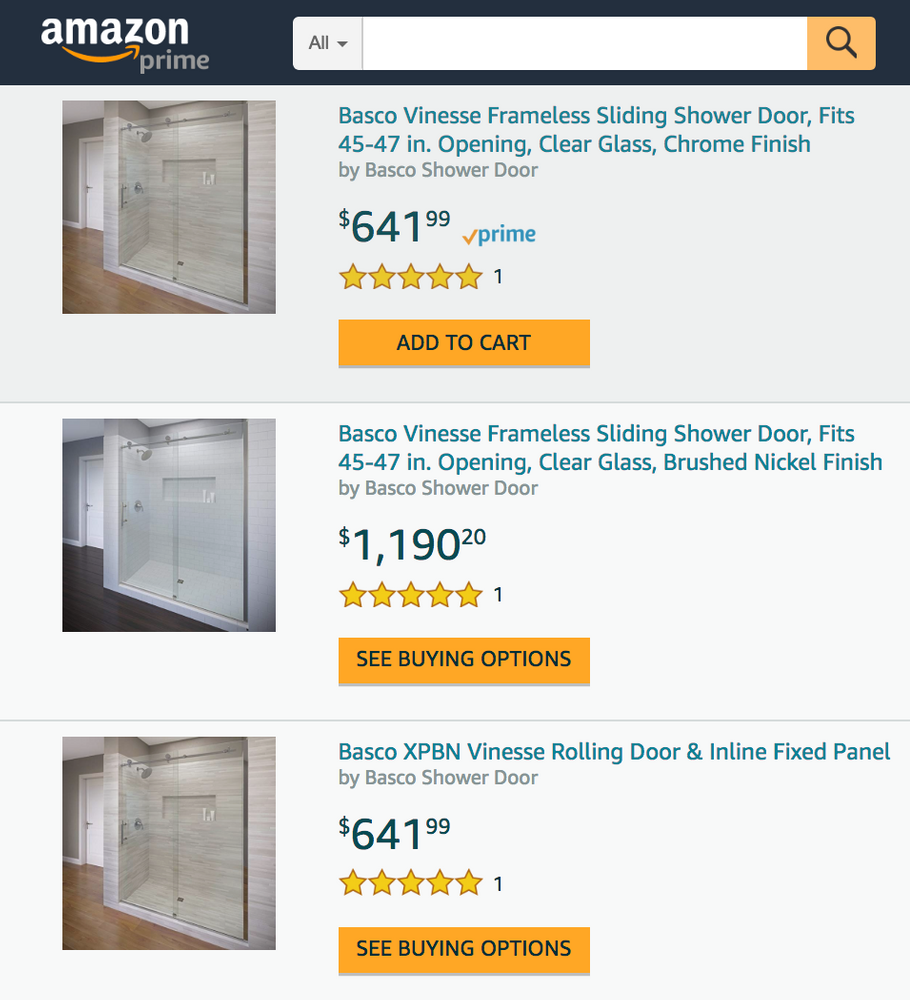 Amazon also factors in how well each individual product, or SKU, gains views and sales. It's not just about page results: It's about page views then sales. You need to get the consumer to not only see your product but to click on it as well. The more conversions a product has, the more often it will appear on Amazon's search results.
Greg likens this process to building a snowball for each SKU. The goal is to build a momentum of getting page views, then conversions, then actual sales.
Overcoming Product Complexity
Part of the challenge building materials manufacturers face when considering selling on Amazon is how to actually do it.
For most manufacturers, it isn't simple. Your products may be complicated (similar to shower doors) with multiple elements of complexity from selection to production to distribution.
Greg's recommendation is to only list simple versions of your products. For Basco, they list some of their most simple shower doors, ones that are easy for end-users to understand and easy for them to make and ship.
While their traditional business focuses on custom doors, they only sell a small share of their full line on Amazon — the products that fit amazon best, such as enclosures with standard openings and heights or ones that are easily adjustable by the buyer.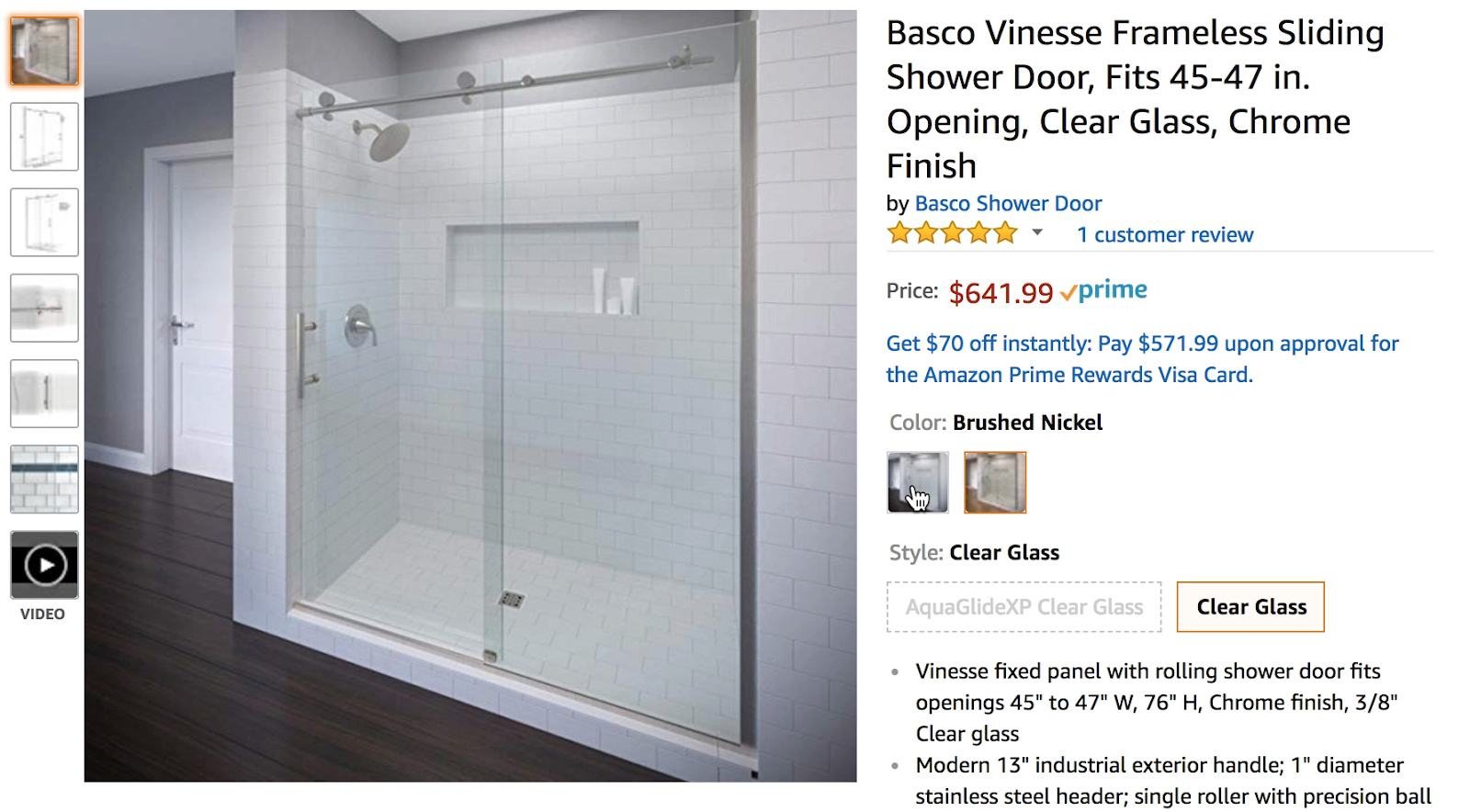 Getting to Know Your Customer
Because of the product type and the nature of the online sales channel, Basco focuses their Amazon listings on DIYers rather than the pros who normally install their custom products.
"We know pros are buying from us on Amazon." Greg said, but the content and imagery are very focused on the DIY audience. What this means from a marketing perspective is that Basco has had to shift the way they talk in their online content, particularly in the product descriptions.
One way Basco has been able to improve their product descriptions is through the direct line of communication they have with the people buying their products. Thanks to Amazon's question and answer feature, customers can ask questions about the product directly on the page. This insight shows Basco where the holes are in their descriptions, and they can fix the accordingly.
Amazon also lets customers leave reviews on the product page. Basco is able to use these reviews, not only in their marketing but to gain insight into their customers' opinions of the product. This insight helps Basco refine both their product offerings and their marketing efforts.
How Building Materials Manufacturers Can Start & Scale Their Amazon Efforts
At the end of the day, building materials manufacturers need to analyze whether or not Amazon is right for them on a case-by-case basis.
You need an overall strategy in order to meet the demands expected from the Amazon audience. Ask yourself and your team where your company wants to be long-term. For instance, Basco has noticed from data that pros are indeed ordering their products from Amazon, and they know that is an area they will need to start focusing on.
In the long-term, Greg recommends that every brand, regardless of product type, asks themselves how to make it more convenient for all of their customers to buy online. In order to do that, you have to consider the Amazon effect, which focuses on faster delivery, more selection and more value.
Basco, for example, had to figure out how to reduce their longer custom lead time in order to get a product out of the door in 2 to 3 days, which is what customers expect when purchasing from Amazon.
Selling on Amazon became more than just a marketing initiative for Basco. It became a company-wide discussion around how to better serve their customers through service (faster lead times) and support (responding to reviews and questions quickly). When they do these things well, Greg says, Basco sells more.
Shipping times, in particular, are very important. Amazon prioritizes products with lower shipping times in their search ranking. However, it's important to know that Amazon controls the product lead time, not the seller. So if your company starts to average a 3 to 5 day range, then Amazon will shift all of the company's SKUs to that lead time.
Similarly, if production lags and lead times suffer, you'll see your growth rates impacted. As a company, you need to consistently evaluate how you can execute the process better and how to deliver faster lead times.
Predicting the Future of Building Materials
In 2009, Amazon started their private label business by manufacturing products, the first of which was batteries. They now have over 70 different private-label products that are projected to be worth about $25 billion by 2022.
What does this mean for building materials manufacturers? If Amazon has data that shows they can make a product cheaper and quicker, they'll eventually move into that territory.
If a brand doesn't make themselves known in the online space, it's possible that Amazon, or another competitor, could come in and start eating into their market share and margins.
Plus, consumers are increasingly turning to online shopping, even for their home materials. After all, it's easier and more convenient to buy your shower door at the same time you buy your bathroom towels. This is especially true for niche products since no customer wants to go to multiple stores to find a just one item.
Source: Retail Dive conducted by Google, March 2017

However, established brands may have an uphill battle when starting online sales as customers may already have expectations for that brand. If you have an established brand, you should consider inventing a new, online brand, according to Greg. A new brand gives you the ability to avoid channel conflict, plus it gives you space to try a different quality or pricing model.
Once you decide to start on Amazon, look at your product strategy to see what you can feasibly start with. Start small to learn if your company can handle the operational capability that Amazon requires or if you need to make improvements to your operation process before you begin to scale your online business.
While most building materials manufacturers are scared of entering the world of Amazon, they shouldn't be. These opportunities are exciting! Amazon is giving companies the ability to use direct customer data to make better product decisions and become more customer-centric.
It's easy to see that the benefits of Amazon, in terms of convenience, customer exposure and ability to purchase, that's going to drive online sales to the point where it'll be commonplace for all building materials companies.
Show Notes
Amazon worth $25 billion by 2022