Even if it doesn't seem like an obvious fit for your company, Zach and Beth explain why you should still incorporate some level of eCommerce into your business.

More About This Show
The Smarter Building Materials Marketing podcast helps industry professionals find better ways to grow leads, sales and outperform the competition. It's designed to give insight on how to create a results-driven digital marketing strategy for companies of any size.
In this episode, Zach and Beth explain how eCommerce can increase your market share regardless of your product type, along with simple tips for getting started.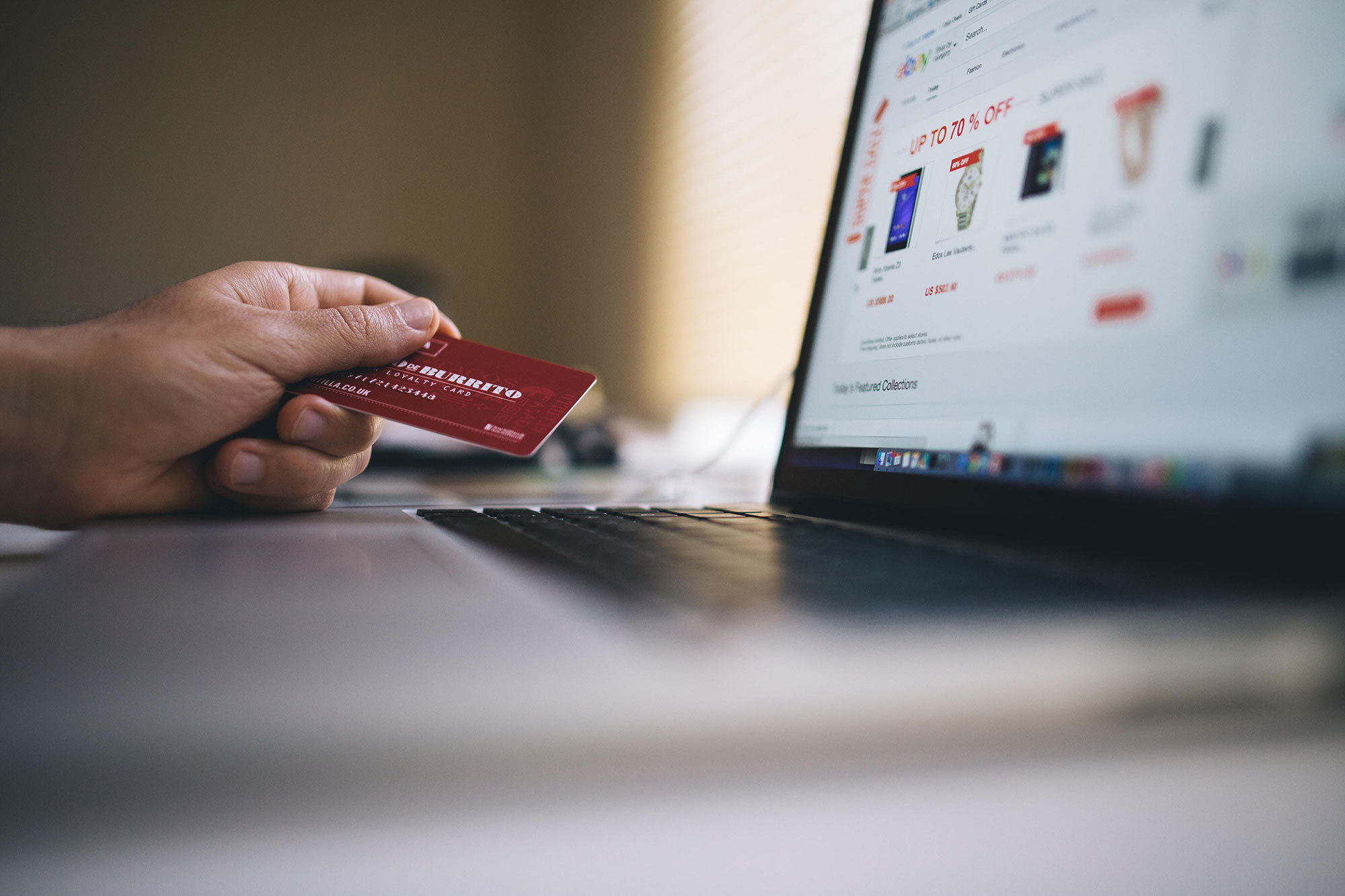 eCommerce is something that a lot of building materials manufacturers want to do but have trouble launching because it's an entirely different model than what they're used to. Despite the initial work and logistics involved, it's vital to your business that you start thinking about how you can roll this out. eCommerce is everyone's expectation in both B2C and B2B markets. In fact, B2B online sales across industries are three times as large as B2C sales.
Benefits of eCommerce in the Building Materials Industry
One of the best benefits of eCommerce is that you get closed loop reporting; all the customer data is yours. Having detailed data allows you to nurture the full customer journey and gives you greater control compared to simply handing leads off to reps and distributors. eCommerce enables you to see every single micro-decision a customer makes so you can keep tweaking and improving your conversion rates.
This doesn't mean that the traditional sales model is broken. But eCommerce offers you the ability to create new sales opportunities while still honoring the relationships you have with dealers and distributors. It's smart business to grow demand for your product. Instead of viewing eCommerce as competition, view it as a way to grow market share for everybody involved in the sales process.
Three Major Reasons to Consider eCommerce
We recommend eCommerce for three primary reasons.
#1: Customer Expectation
Whether direct or subconscious, customers today have the expectation that buying any product should be easy, including yours. If you're not selling directly online yourself, but your product is being sold elsewhere, you're losing out on both gaining customer data and owning that channel.
#2: Logistics
No matter how you view eCommerce today, it's going to be a necessity at some point down the road. By getting started now, even in a limited capacity, you'll be able to figure out logistics on a smaller scale and iron out any issues that pop up. Then, when you are ready to really ramp up your eCommerce sales, you'll already have a smooth process in place. This is especially important when it comes to shipping and lead times.
#3: Competitive Advantage
If none of your competitors are currently offering products via eCommerce, you've got an easy win ahead of you, because you'll be seen as the best eCommerce store in your niche.
Choosing Which Products to Sell on eCommerce
eCommerce might not be a good fit for every product in your catalog, especially when you're first getting started. Begin with selecting your core market offering, which should include products that are easy to explain. From there, you can begin to scale up.
Another consideration when picking your products is how to price them online.
Also figure out the best way to handle shipping, logistics and lead time. People are used to 48-hour shipping and delivery, so it's smart to explain why it takes longer for your product to arrive.
A lot of manufacturers don't price things competitively online because they don't want to disrupt the channel right away. You might consider doing standard MSRP prices while you're smoothing out logistics, and then offer a more competitive price.
Launching Your eCommerce Store
When creating your eCommerce store, you need to make sure you're answering your customers' biggest questions about your products. The main components that are necessary to do that include:
Imagery
Lead times
Reviews
How your product works and how it's installed
Dimensions
Make sure that all of this information is laid out in a way that your customers can easily digest. These components should also answer the top ten questions your sales reps answer on a regular basis. Imagery, for instance, can be used to show what the product looks like from multiple angles, what tools are needed for installation and how the product looks next to complementary products.
Pella is an excellent example of a manufacturer that's doing this right. They have pictures showing the standalone product and what it looks like in use. They also include information on how to buy the product, even if it's not through their website.
When your company first starts thinking about an eCommerce store, make sure you get buy-in from all departments, including the sales team. From there, choose a platform. The most important element during setup is integrating the buying process directly into your website. Don't send your customers to another website or your conversion rates will suffer.
It's also vital to streamline the checkout process. You don't want to spend time building your online store, then have your leads drop off during the checkout process. It should be minimal and easy to navigate. It does take a lot of effort to make the checkout process simple, but it's worth it.
Who's Doing eCommerce Well?
There are a lot of building materials manufacturers that are already doing eCommerce well. One of our favorites is Stikwood, who focuses on the DIY market. When you go to their homepage, one of the first pieces to load is "Shop." This immediately lets you know that you can buy their product directly from their site.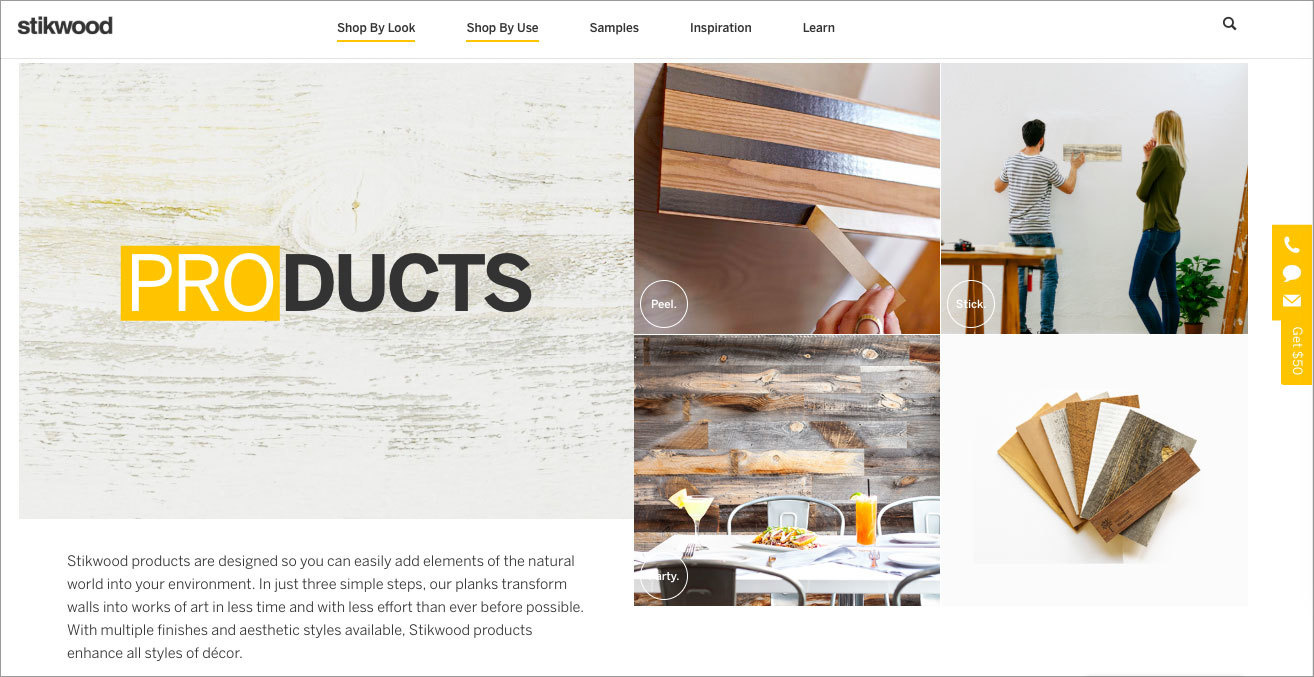 They're also using video to help explain their product, such as videos of a person holding each product to help customers imagine the scale. Their cart experience is also great.
Another winner in the eCommerce space is Hunter Fan. They do what you expect an eCommerce site to do, including offering different customization options such as size, color and finish. The product page is straightforward and includes pricing, reviews and descriptions. If something is out of stock, you can sign up for an email notification when it's back in stock.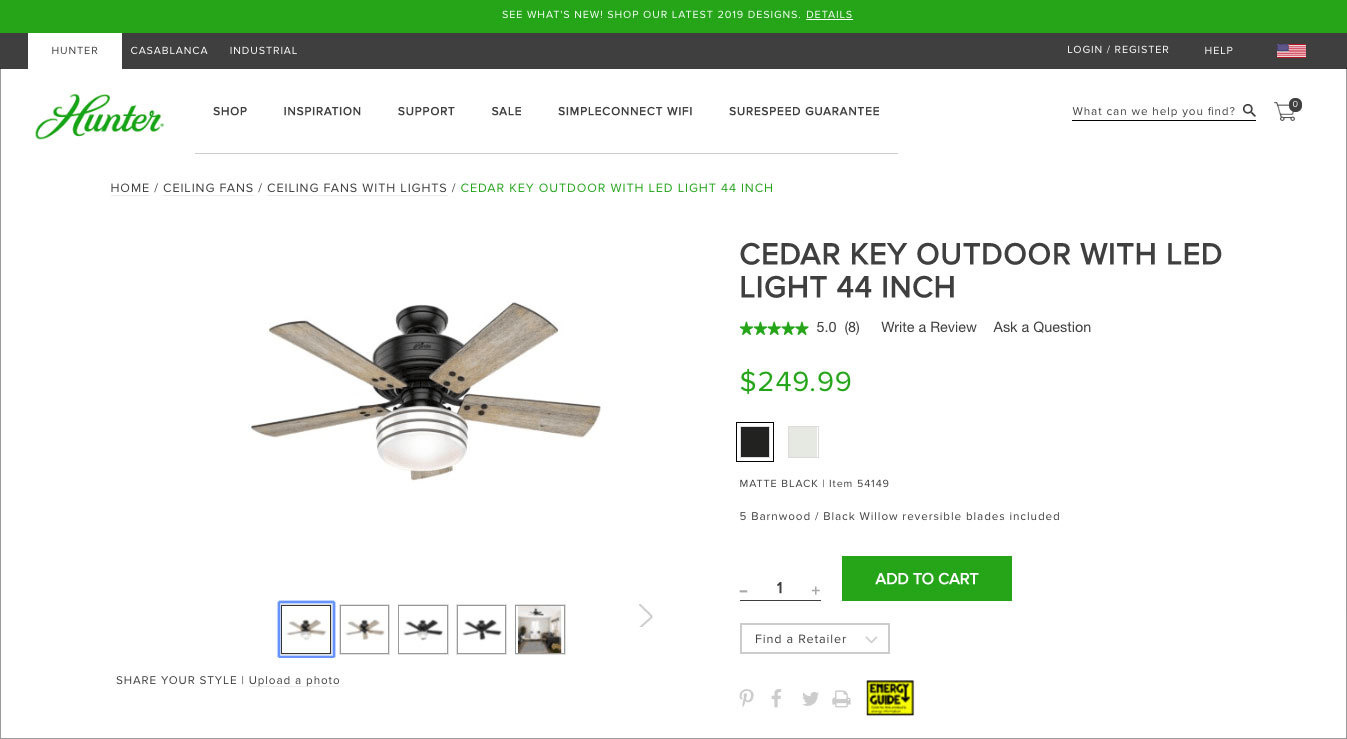 eCommerce definitely isn't something that you can throw together in a day or two. But it is smart to get started sooner rather than later so you can be a leader in growing market share for your product area.
We'd love to hear your thoughts on eCommerce, no matter how you feel about it for the building materials industry. Drop us a message at [email protected] to let us know what's working, why you'll never do it or what hurdles are standing in your way for e-commerce.
If you have questions on how to market to the building materials channel, feel free to reach out to us at [email protected].