Developing a successful relationship with a lumber dealer can be a tricky business. Depending on the dealer's size, you may need to navigate through multiple levels of sales staff or even a third party distributor.

But if you can nail your sales pitch and provide stellar support, then you've hit a premium outlet to get your materials into larger jobs and longer term customers. While there's no exact formula or one-size-fits-all solution to wooing a lumber dealer, we've cracked the code pretty well.

Keep reading to learn more about:
Understanding the lumber dealer landscape
Knowing who's who at the lumber dealer
Creating a winning approach to reach the lumber dealer
Marketing to lumber dealers through your website
Marketing to lumber dealers through trade shows
Growing your lumber dealer relationships
Selling your building materials through a lumber dealer helps you to bypass small buyers seeking product for a single personal project, and instead market directly to professionals. This can result in selling larger quantities because you'll reach buyers with larger scale: anyone from builders to contractors for home repair, or even sub-contractors.
And while many pro customers still shop at big box stores like Lowes or Home Depot, choosing a specialized lumber dealer can provide them with a number of benefits.
First, the staff is typically much more knowledgeable about the products. A lumber dealer is also able to offer a lot more materials than a big box store, so once you're in, you can grow your product line within the dealer.
So while you might start off just offering a specific type of lumber, there's the potential to add in decking, siding, doors, and more. As long as you can continue to prove your product's value, you can continue to grow and benefit from a single lumber dealer relationship.
Since pro customers oftentimes have bigger jobs than a weekend warrior does, volume is a major perk for ordering from a lumber dealer. There's typically enough stock on hand so that the builder or contractor can have their order filled quickly and even delivered directly to the job site.
For pro customers, purchasing from a lumber dealer offers a one-stop shop for a variety of materials with the convenience of better service.
So how do lumber dealers choose their building material companies?
Many of them buy through distributors, particularly if they're smaller with just a few locations or less.
But it's possible to cut out the middleman and sell directly to the lumber dealer. They have an incentive to do this because it increases their profit margins when they don't have to pay a cut to the distributor. This is especially true for lumber because it comes with some of the lowest profit margins out of all the products on the dealer's floor.
Most lumber dealers have a relatively small footprint in terms of size and locations, and they're the ones who are going to prefer working with a distributor rather than managing multiple relationships with several different building material manufacturers.
When you're creating your list of potential lumber dealers, start with large and medium sized companies with multiple locations. They're going to be your best bet for having enough bandwidth to buy directly from you, while also making it worth your effort to get a decent amount of product on the floor.
Because here's the thing: it actually takes work and effort to land a contract with a lumber dealer.
You can't rely on just a few cold calls to get the deal done. And even once your product is in the door, you've got to continue to push and educate to make sure your inventory is getting sold.
Let's keep going to make sure you're developing the right relationships in the most effective way.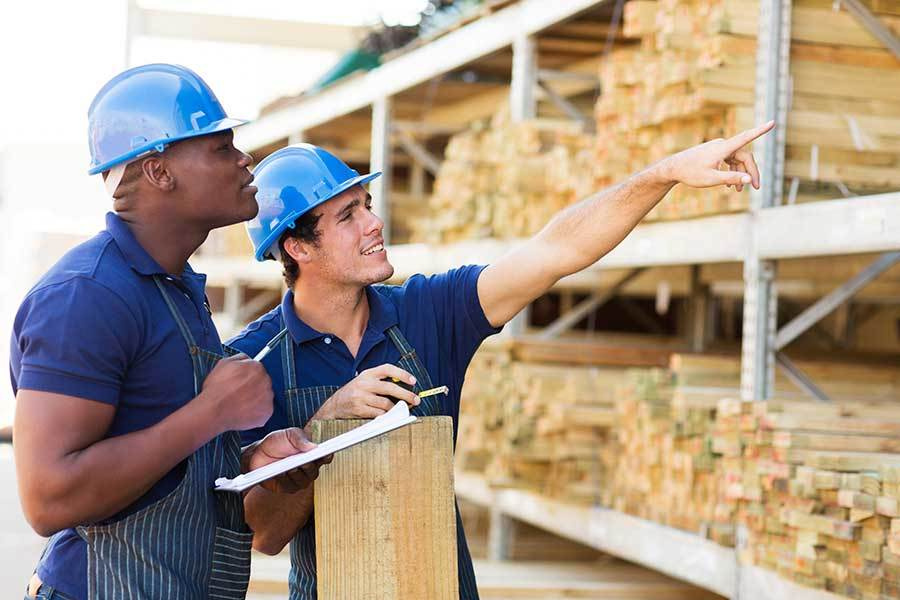 Once you've identified your target lumber dealers, it's important to understand how the staff is composed to make sure you're connecting with the right people in the right way. There are a few different types of employees who work at a the typical lumber dealer. In larger chains, you may have more specialized experts and sales staff, but this list gives you an idea of the types of people you can expect to interact with at any sized lumber dealer.

Let's break down each role and how they relate to you.
Showroom Sales Staff
A lumber dealer's showroom has to fit a lot of samples and information in a very limited space. Some dealers may have large displays devoted to specific projects, like full kitchen designs. Others may just provide some sample products along with smaller building materials needed to complete the project. Scope out the lumber dealer's showroom and develop ideas of how to work in your own marketing in the existing space.
That way, it won't matter if the lumber dealer has hyper-specialized staff on the floor or a simple check-out counter. Create your own integrated marketing plan of where you can place branded decal stickers, product pamphlets, or posters.
It's ultimately your job to sell your product, even when it's on the floor. Before you even pitch the sale, know what you're working with for each specific lumber dealer so you can demonstrate exactly what you can offer them and how easy it is for them to sell your materials.
Counter Staff
As I mentioned, the counter staff and showroom sales staff may be the same people, depending on the size of the lumber dealer. In many cases, you may find that the counter staff is more concerned with taking orders than making sales—even if they have the knowledge to do the latter.
While they certainly could sell your product, they're usually not the ones you want to target with your pitch or your follow-up education. This should certainly be judged on a case-by-case basis. In a smaller lumber dealer, the counter staff may actually serve many roles, including sales person. But in a larger operation, you'll probably find that each person's job functions are more clearly defined. The counter staff can direct pro customers in the right direction but may not have the ability or incentive to push them towards your specific product.
Yard and Warehouse Specialists
Educating both yard and warehouse specialists can go a long way in promoting your building materials at the lumber dealer. These are the folks who are actually interacting with customers on a daily basis—making suggestions and directing them to the best products for their specific needs.
Yard and warehouse specialists aren't technically salespeople. It's a safe bet that their job also entails tracking inventory, loading customers, and keeping the lumber yard clean and organized. But all of this experience makes them ideal partners in developing a healthy relationship to actually promote your company's building materials at the lumber dealer.
After all, if your product doesn't sell well, it can quickly be pulled off the shelf. Getting your foot in the door isn't the only key to a successful lumber dealer relationship—you've got to make sure customers are actually buying your materials.
Plus, once you've given the dealer a proof of concept that your materials sell well, they'll be more likely to expand their offerings from your company.
Outside Sales Staff
A lumber dealer's outside sales staff can be your golden ticket to both getting in with the dealer and pushing product to actual customers.
Why?
The outside salesperson is the one actually making calls and visits to professional customers in the area, like contractors and builders. A good outside salesperson is developing long-term relationships with customers, relaying specific product knowledge, and tracking customer product use. They have the perfect blend of industry expertise and winning sales strategy and are often the ones bidding on actual deals with the professionals.
So of course you want that on-the-ground person well-versed in your product offerings. Providing them with the right amount of education and support can go a long way in marketing to the people who will actually buy your building materials. Again—relationship building is a key component of any successful sales and marketing strategy.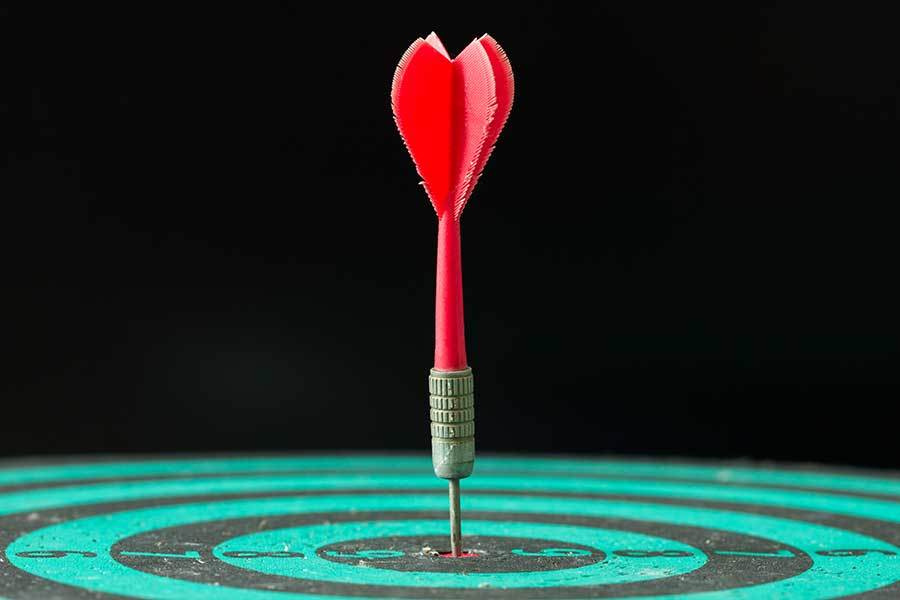 If you want to successfully place your products with a specific lumber dealer, you'll need to perform some basic research, craft a smart, enticing strategy, and actually make the ask. I'll lay out exactly how you can do each of these things to kickstart a new relationship in the lumber dealer industry.

Scope Out the Sales Floor
Before you even request a meeting with the lumber dealer's sales manager or distributor, you need to perform a little reconnaissance. Spend some time researching the lumber dealer's sales floor and warehouse to determine what type of products they're currently carrying.
Your mission? Figuring out the competition.
The findings typically come back in one of two ways. Either you discover the lumber dealer carries a similar product from a competing building material company, or they don't carry any version of the product you want to push.
Either way, chat up the sales staff and warehouse or yard specialists to get some additional insights. If you notice a competitor on the floor, find out what they do and don't like about the product.
After all, these are the people who are going to be pushing your product once you get it in the dealer. If there's no comparable product to yours, ask them what they're missing for their customers.
If the lumber dealer has multiple locations, then be sure to visit as many as you can. The goal here is to get as holistic a picture as possible of the lumber dealer's business model and their needs. You can then use that information to customize your sales strategy when you actually make your pitch.
Use your best judgment and comfort level when determining how you want to craft your questions. You may want to be a little sneaky to try and get the most candid information out of the lumber dealer's sales staff.
But, if stealth doesn't come naturally to you (which is completely fine), you can always be upfront and tell them who you are and why you're asking these questions.
Ultimately, you want to sound authentic or you're not going to get any useful information anyway. So it's really up to you (or your own sales team) as to how you want to approach this part of the plan.
Outline a Strategy for the Lumber Dealer of Distributor
Depending on how the lumber dealer operates, you're likely to talk to either a sales manager or a distributor when it comes time to make your sales pitch.
Getting an in-person meeting with an actual member of the dealer's sales team is more likely to happen when the dealer has a larger geographic footprint. They'll be better equipped to handle individual relationships with building material companies than a smaller dealer.
To get a meeting with a distributor representing multiple lumber dealers, consider participating in a distributor show (more on that later).
Regardless of who you're meeting with, the most important thing you can do is to demonstrate that you understand the lumber dealer's business and that taking on your product will be good for their business.
Before you head in, analyze the data you gathered from the sales staff to create an effective pitch. Ideally, you want to try and figure out the price points for any existing competition so that you can try and give them a better margin on your product.
If there's already direct competition in the lumber dealer's warehouse, you need to offer one or more of these things:
Better product
More profit
Better support
Preferably, you'll want to provide two or even all three of those things. That's why it's important to learn all you can about the competition so that you can go in with an exact plan of how to differentiate your own product and company (and ideally, price).
If there's no existing product that's similar to yours in the lumber dealer's warehouse then talk about the conversations you had with their sales staff and yard specialists and explain how your product fits an unmet demand from customers.
If there's a special service or support system you offer, discuss that as well. Sometimes just being a nice person or an understanding listener is enough to make the sale.
Whether you're talking directly to someone at the lumber dealer or to a distributor, these people listen to sales pitches all the time. That means you need to show that your company and your product are different.
You need to demonstrate that you not only understand how they do business, but that you can help them improve it. You've already done the legwork, so don't be shy in making candid recommendations. In most cases, they'll appreciate it.
How to Close the Deal with Lumber Dealers
While words and numbers are great, you also need to sell the product itself. That means you need to bring samples and spec sheets so that the lumber dealer or distributor understands the exact quality of what you're offering.
Don't charge them for anything you leave behind—consider it a cost of doing business.
To help close the deal, also be ready to discuss testimonials or client case studies. If you already have a relationship with a reputable lumber dealer, then talk about how you've helped them. Leave a handout with some quotes from your satisfied customers—preferably referencing both your product and your level of service.
Case studies are also helpful if you've helped another lumber dealer improve margins or increase sales. You can go into more specific numbers or sales strategies.
While all of this is going on, pay attention to how the manager or distributor reacts to your pitch. They'll let you know when it's time to close the deal, so look carefully at their cues. When you see them have that "aha moment" of understanding, then it's time to talk about next steps.
Now it's time for the biggest key to getting into a lumber dealer: you have to actually ask for the sale.
There's no perfect formula for when the exact moment comes. Just don't get so wrapped up in your speech that you disregard the context clues. If you've done a good enough job demonstrating your product's value, you'll have no problem getting the green light.
Help Your Dealer Sell Your Products
The journey doesn't end with getting your materials into the lumber dealer. In fact, it's only the beginning. You need to continually work smarter than the next salesperson, especially if you're competing for shelf space with other building material companies.

Spend time on the Showroom Floor
Start off by spending time on the showroom floor and in the lumber yard or warehouse. Similar to what you did during the reconnaissance phase, you'll want to interact with the sales staff and specialists.
This time, however, be completely upfront about who you are and what you're doing. Get to know the key salespeople who make suggestions to pro customers and bid on large jobs. You need to continually remind them and educate them about how great your product is.
Make it Easier for the Sales Team to Sell More
Don't let your focus be on solely helping your own company. Instead, focus on how you can genuinely make it easier for the sales team to do their job well. You can bring in ads or other printed marketing materials either for the sales staff to use as reference or for them to hand out to builders and contractors.
Talk to them about installation tricks and other tips because they also need to be able to communicate the benefits of using your product over any other to the people who are actually going to use it.
Build Relationships
And just as in any sales position, make yourself likeable. Ask about the sales team's personal lives, remember details they mentioned at earlier encounters, and always follow up. A good sales rep can make all the difference in how a lumber dealer views a certain product—and how much they promote it to their biggest customers.
In addition to showroom and warehouse staff, also keep an ongoing relationship with the lumber dealer's management team. A great way to solidify the relationship is to lend out some of your team's expertise. For example, someone from your marketing team could help them update their website, implement some SEO tactics, or even get them started on social media.
If the lumber dealer has an annual customer event (and many do), make sure your company participates. Offering demos and other promotions directly to the pro customers is an easy way to gain some repeat customers. And it solidifies your company as a dependable presence at the lumber dealer.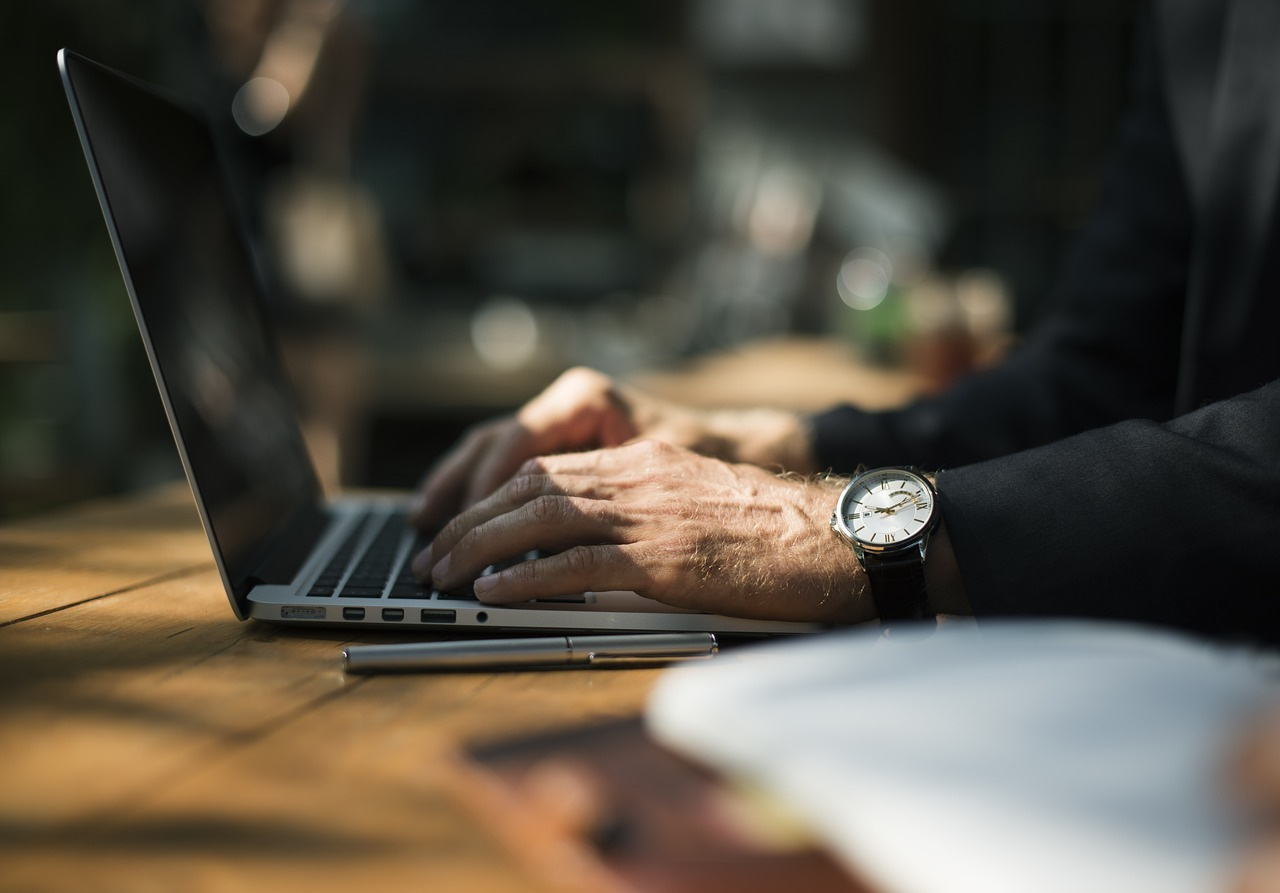 Lumber dealers probably aren't going to have the most sophisticated websites for themselves. But that doesn't mean they won't respond well to a building material company that has a website with a standout look and user experience.

Plus, as much of the traditional staff at lumber dealers begins to transition to a younger generation, I'm continuing to see an increased importance on all things digital in the industry.
Yes, Having a Good Website Matters
Having a cutting edge website and digital marketing strategy shows that your company is relevant and has the resources and expertise necessary to do a good job.

It also sets you apart from the competition.
After all, imagine if you were a lumber dealer approached by two building material companies offering a similar product at a similar price.
When you hop online to do some additional research on each one, you notice a big difference. One company has an antiquated website from the early 2000s with little more than their office hours and location. The other company has crisp images, clear messaging, and an entire resource center with valuable information.
Which one are you going to choose?
Always err on the side of creating an easy decision for your target lumber dealer. Having an interactive and informative website is a great tool to have at your disposal, especially if you're trying to get a meeting with a dealer or distributor you don't personally know.
Analytics
To get started improving your website, start off with some simple data analytics. A basic analytics tool can reveal what part of your site visitors spend a lot of time on and where they're bouncing off. That tells you where to hone in and expand content, and where you need to cut back or spend more time focusing on to make a better user experience.
If there's a specific area of your website you'd like to draw visitors to (such as a page with a contact form), use strategic call to action buttons. You can also create a customer journey map that goes through the possible actions on the website and how to move people in a specific direction.
Blog
Whether your building material company website has a blog already or not, take a moment to think about its true purpose. A successful blog with a devoted readership isn't built by plugging your products in every single post. Rather than focusing on shameless self promotion, work on actually providing valuable content for your target audience.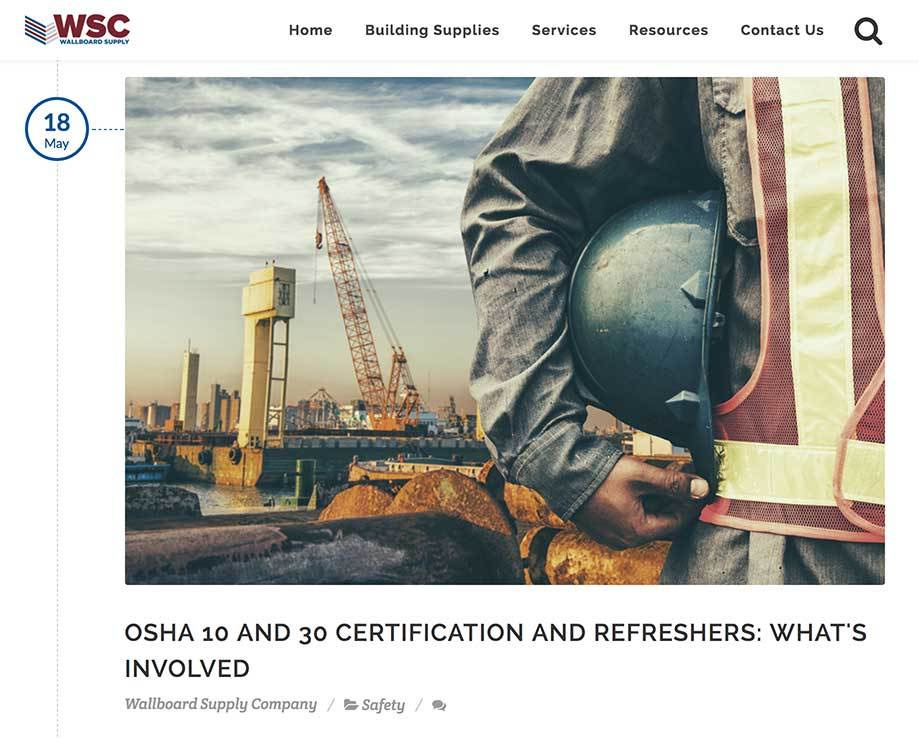 Check out Wallboard Supply Company's blog. While some posts do spotlight unique products, the majority of the content focuses on industry-specific news and insider's tips. The post below, for example, talks about OSHA certifications. And despite being a technical topic, the layout and photos are still fresh and appealing.

Social Media
Putting your company on social media is becoming the norm no matter what industry you're in. For building material companies targeting lumber dealers, it provides a new way to reach out to your professional contacts in between your in-person visits. Utilizing every avenue possible is a necessity to outsell your competition. Social media helps you get personal, interactive, and pop onto your lead's radar without being too pushy or salesy.

BWI Millwork does a great job of this. They're on Facebook, Twitter, Pinterest, YouTube, and LinkedIn. They provide icons on their website to make it easy to follow them on one or more platforms.
So what kind of content do they push out?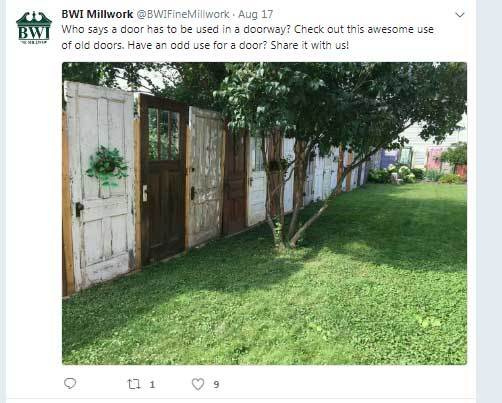 They show custom orders before they're shipped, behind the scenes tours, and interactive questions to engage their followers. BWI Millwork has created a great approach to use social media as a strong part of their company's online presence.

Podcasts
If you're really devoted to providing in-depth content to your audience, or even if you just have people on your team who are passionate in the right way, consider creating a regular podcast. It takes some initial upfront investment but more and more people are tuning into compelling podcasts with hyper-niche topics.
The construction industry is no different. Here's a podcast called The Construction Leading Edge, which specifically targets industry professionals and how they can grow their business and careers. Even if you don't have the resources to create your own podcast, reach out to become a guest on an existing podcast. A robust blog can help cement your company's role as an expert, and you may also want to pick a staff member who's particularly good at public speaking.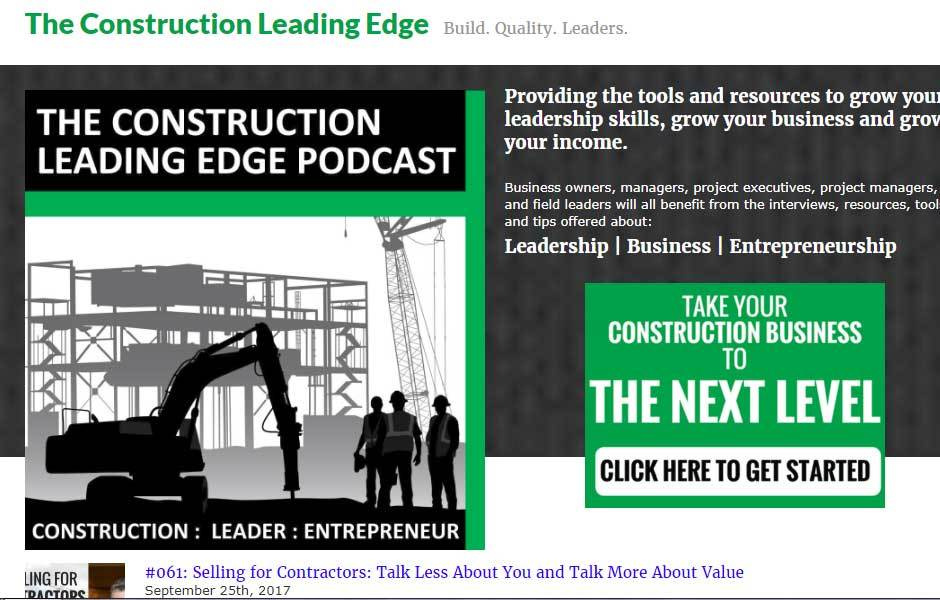 Imagine creating online content through any of these channels. Not only does each one increase touch points with your lumber dealer contacts and leads, it also provides an extra service. And if you'll recall, better service is one of three things you need to consistently provide your dealer clients with in order to make the first sale and to continue making the next sale month after month.

Differentiation is key when marketing to lumber dealers. Use your website and general online presence to win every time.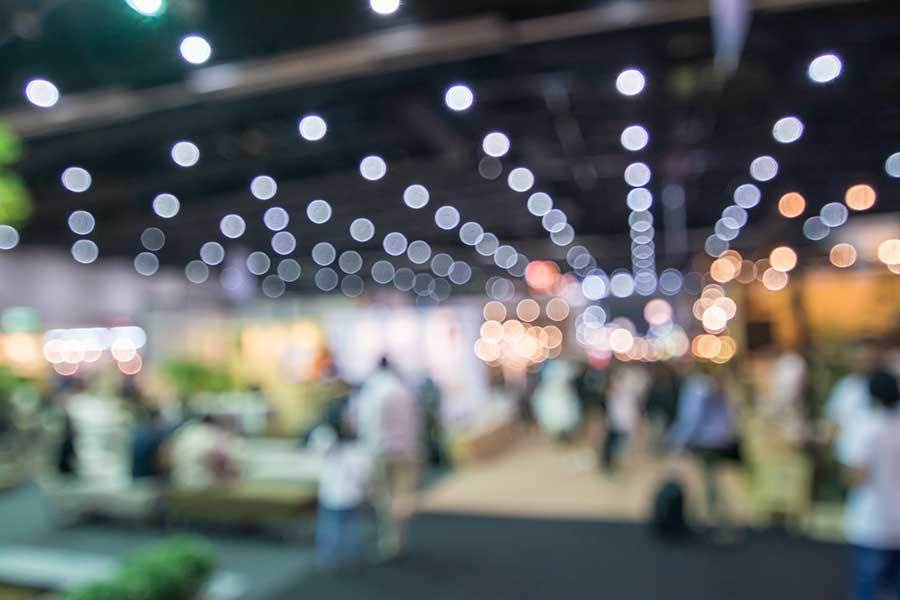 Participating in trade shows is a great way to reach both lumber dealers and their distributors. It can help you reach a greater number of leads at one time, learn how they select products, and figure out what their current needs are. Then, of course, you can demonstrate how your building materials company can meet those needs.

The downside, of course, is that trade shows are expensive. You've got to pay for your spot, you've got to pay for your booth, you've got to pay for your staff, and you've got to ensure that all of those costs are worth what you get in leads.
Luckily, there are some relatively easy things you can do to maximize your returns at the next trade show.
Make Your Booth Memorable
Consider your location in relation to the flow of traffic and make sure that your show stopping pieces are in the best line of sight. Put the most relevant products in a prime position, based on the most common type of consumer at the trade show. You can also alter your marketing materials based on the show's theme.
Start Looking at the Attendee List Before the Show Starts
You should also check to see if the trade show is using an event app, especially if it's a larger exhibition. Many trade show organizers now provide smartphone apps to use for both attendees and exhibitors.
If this is the case, download the app early and explore its features. You'll likely be able to browse the list of attendees so you can create a list of target leads. You may even be able to message them in advance to request a meeting.
Create a Strategy to Drive Foot Traffic
If the attendee list is too big to sift through, consider incorporating some type of promotion or giveaway to increase your booth's foot traffic. You've got to find a way to capture the lead's information, so check to see if there's any badge scanning technology available at the event to quickly get your booth visitors' contact information. If there is an event app, you can probably use it for this purpose as well.
Prep Your Team
It's also important to prep your team before heading to the trade show. Practice key talking points and develop a way for everyone to record any notes on leads they meet with.
Pen and paper is cumbersome and easily lost. Consider a more technological approach by either using voice notes on your phones or quickly typing out your notes. A little bit of practice ahead of time can go a long way on the day of the event.
Also give your team time to explore the trade show in turns. It's a great educational opportunity to scope out your competitors, eye any new products or innovations coming to market, and if you're lucky, get an insider's scoop on their pricing. Oftentimes, you don't even need to remove your name tag—people tend to get in the sales groove and speak freely at these events.
Have a Plan on How to Follow-up with Leads
When the show is over, it's time to talk follow-up. First, reach out to all your leads on social media. It's a quick and easy way to start connecting them to some of your company's valuable online resources in a passive way. Then categorize everyone's contacts into levels of warmth. Obviously, you want to follow up with the warmest lumber dealer leads first.
And just as you would with any sales call, use the information you learned about them at the trade show to develop a concrete sales strategy. Figure out ahead of time what their needs are, who the competition is, and how you can do a better job.
Remember—it always boils down to understanding the lumber dealer's business and making it easier for them to succeed. And when you can do that, you'll succeed as well.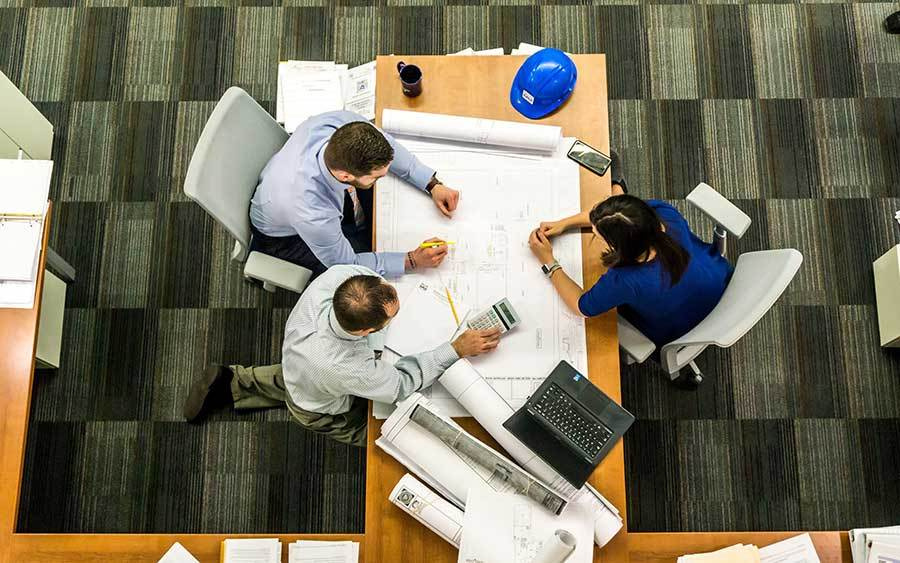 You know by now that it takes ongoing connections on multiple fronts to continuing building that relationship with your lumber dealer. Getting to know the sales staff, spending time in the warehouse, pumping out regular and relevant content—all of these things are vital.

The common thread in this multi-pronged strategy is to keep listening to your contacts at all levels of the lumber dealer. If you hear about a particular problem, think of ways you or your company could help solve them.
For instance, if an outside salesperson is going to a construction site where your product is being used, but doesn't feel comfortable with the exact specifics of the product, offer to go with them. It shows that not only you're an expert in your field, but that you're an available resource.
Then, you could take that one step further by turning the visit into a blog post. You don't have to mention company names or specifics. But if one person has a question about installation or composition materials then chances are someone else is thinking the same exact thing. Consider each individual teachable moment and figure out a way to promote that to a larger audience.
Another way you can build trust and loyalty one on one is by always giving your honest opinion to the sales manager or other contact at the lumber dealer.
So, if the manager says that they're thinking about bringing on another company or product that competes with yours, don't automatically throw a fit. Instead, help them think logically through the decision process.
If it makes more sense for their business to stick with one product (yours), show them why. But, if it truly would be a better business decision for them to add on an extra competing product line, then tell them so.
You'll likely find that they're surprised to hear your candid feedback and support. And after that moment, you'll be viewed in an entirely new light—as someone who truly has the lumber dealer's best interests at heart.
The same holds true when it comes to making decisions regarding changes in the relationship. Don't just call up your lumber dealer contact and make an announcement that the level of service they receive is about the change (especially if it's for the worse).
Instead, involve them as decisions are being made. Ask for their feedback and ideas as to how you can collectively create a solution.
Because here's the thing: When you're trusted and liked at the lumber dealer, they're going to sell your product—no matter what else is on the shelf. That's also why it's crucial to build relationships at every level of the sales chain, from the bottom to the top.
You want to know everyone who has the chance to push your product, and incentivize them to root for you. If they like it when you come to the lumber dealer because you bring donuts or always ask about their kid's Little League team, then they're going to think of you again when a pro customer comes in looking for a product like yours.
And don't forget—once you've created that symbiotic relationship with a lumber dealer, ask for a testimonial. You can put in on your company blog, post to social media, and use it as part of future sales pitches. Always think holistically of how one marketing tactic can complement another.
Successfully marketing to lumber dealers in today's market takes a combination of both informed, strategic sales pitches and a fully maximized online presence. When you merge the two, you can ensure that you and your building material company provide invaluable resources in terms of content, insight, and quality products.
Once you do that—and keep doing that—you'll have developed a foolproof relationship with your lumber dealer.