On this episode of Smarter Building Materials Marketing, Alex Cadieux shares how his company, Techo-Bloc, has created an enormously successful roadshow that focuses on the contractor, not the product.

More About This Show
The Smarter Building Materials Marketing podcast helps industry professionals find better ways to grow leads, sales and outperform the competition. It's designed to give insight on how to create a results-driven digital marketing strategy for companies of any size.
In this episode, Zach and Beth talk to Alex Cadieux, Director of B2B Marketing at Techo-Bloc.
Alex gives us amazing insights on how Techo-Bloc utilizes unique strategies to grow and retain their customer base of hardscaping contractors.
Meet Alex Cadieux
Our guest, Alex Cadieux, is Director of B2B Marketing at Techo-Bloc, a Canadian-based manufacturer of masonry products with distribution throughout Canada and the U.S. One of his primary responsibilities is overseeing the company's stand-out annual roadshow, Contractor Showcase.
But Alex's journey with Techo-Bloc started long before his current position. He began visiting hardscaping job sites with his father when he was just eight years old, and by the time he was 12, his dad had started working for Techo-Bloc, then a small local company in Quebec.
Fast forward a few years and Alex got real hands-on experience working as a landscaper himself throughout college. After graduating, he joined his father at Techo-Bloc as a sales rep and through hard work and dedication, moved up the ranks to become their national sales director.
In his current role, Alex has expanded the company's market share with some exceptional tactics aimed at hardscape dealers, contractors and the specification community.
And lucky for us, he's shared some of these strategies on today's podcast.
How To Educate Decision Makers
Techo-Bloc's Contractor Showcase has become a pillar of their B2B marketing strategy, and Alex oversees it each year. It's a three-month road show that traverses across four Canadian provinces and 30 U.S. states, and it's entirely free to attendees.
According to Alex, it's no small feat. It takes 9 months of preparation before the first show starts. Then he and his crew work 18-hour days during the show, traveling with four 53-foot trailers to each location. Although an event only lasts a few hours with a 24-hour window for set up and break down, Alex says their goal is to make attendees feel like it's a permanent exhibition.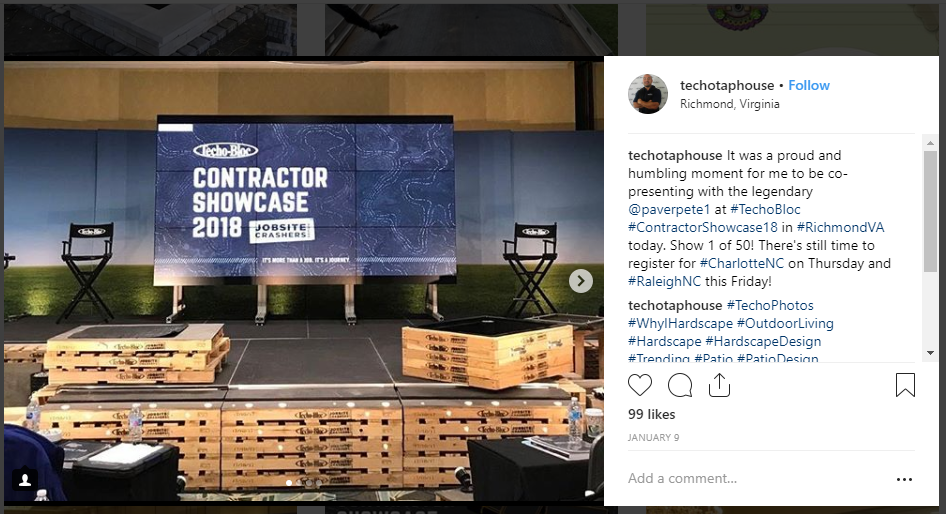 The result? Contractor Showcase has cemented Techo-Bloc's status as the leader in innovation and understanding of what it is to be a hardscape contractor.

They are careful to make sure the showcase isn't about Techo-Bloc's product; it's about educating contractors on how they can grow their business the right way. The Showcase has educational talks that demonstrate how to increase earnings and how to build a better company that people are happy to work at.
In short, Contractor Showcase teaches Techo-Bloc's clients to become better business people. And that helps ensure a better, longer-lasting client pool for Techo-Bloc. It's essentially a hardscaper's business boot camp, incorporating elements of education, entertainment and trade shows.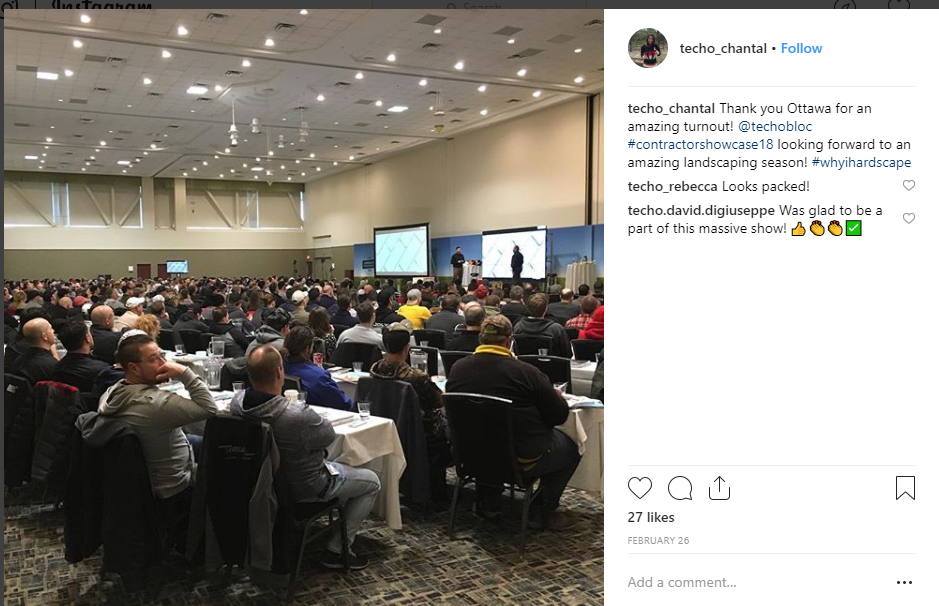 Techo-Bloc's Contractor Showcase popularity brings in large crowd

Measuring Results from Events & Showcases
Contractor Showcase is hands-down Techo-Bloc's biggest marketing campaign, according to Alex. But the investment certainly pays out in terms of impact and results.
Techo-Bloc anticipates 18,000 contractors to register for this year's events, and they're also getting in front of the right people. Alex estimates that 87.5% of their attendees are involved in the decision-making process at their company.
They've recently added an interactive survey component to each show, asking participants a series of questions about their business, such as:
How many jobs do they do in a year?
How many crew members do they use?
What products do they use other than Techo-Bloc?
How much do they spend in this product category?
How much do they spend with Techo-Bloc?
This information helps Techo-Bloc prioritize their sales leads. They can figure out how likely a prospect is to convert and how much sales potential is there. Alex has also recently integrated this process into their CRM in order to track progress throughout the year.
Since Contractor Showcase happens at the beginning of the year, Techo-Bloc uses that information and momentum for sales reps to build on all year long.
Another interesting growth indicator is Techo-Bloc's employee count. When Techo-Bloc first started Contractor Showcase 14 years ago, the company had 150 employees and three manufacturing sites. Today, they're up to 650 employees and eight manufacturing sites.
Alex says this isn't a coincidence and credits the company's growth to Contractor Showcase serving as a springboard for an amazing team of sales reps who actually visit job sites and challenge contractors to improve all aspects of their business.
How to Relate to (and Choose) Your Customers
Alex says that Techo-Bloc is particular about the type of hardscaping contractor they target. They focus on like-minded individuals who want to grow by being better than they were yesterday.
The guy who thinks he knows everything, according to Alex, takes too long to educate and isn't as likely to make the switch to Techo-Bloc.
The sales team has even developed a profile of their ideal contractor, using factors like age group, how long they've been in business and what they value in the industry. Alex prefers to focus on younger contractors because his team can help them shape their business and keep them as a customer over the long-term.
He also focuses on contractors who look at factors besides price when it comes to building materials. The ideal customer wants to learn to build better and successfully grow their business. Alex has focused his sales approach on how Techo-Bloc is different (and better) than anything else on the market.
Techo-Bloc sells through authorized dealers rather than directly to contractors, but they still keep a direct pulse on the challenges of their end user. In fact, Alex and his team even create their own job site each year and try to duplicate challenges they've heard of from their customers.
They film the entire process from start to finish, showing in real-time how they navigate the ups and downs, and share it with the customers, even when the job doesn't go well. It helps the team relate to their customers, demonstrates Techo-Bloc's authenticity and can help save their customers time by showing them what works and what doesn't.
How to Deliver Value to Your Customers
So how does Alex position Techo-Bloc as a valuable product? He says it can't be smoke and mirrors; you have to offer real value to your customers. He shows customers how to both save money and make money with things they already have. He's able to do this because he understands their business really well.
One of the most important aspects of this approach is understanding contractor's pain points from their perspective. Alex understands that concrete pavers are just a small piece of a hardscaper's project and that's why Techo-Bloc spends so many resources talking about the bigger picture.
Contractors Showcase, for example, is the company's most expensive marketing campaign. It's totally free, and attendees get swag, a $100 coupon, a great breakfast and lunch, plus the chance to win prizes — and there is zero commitment to buy from Techo-Bloc.
But Alex and the rest of the team recognize that in many cases, contractors see that the Techo-Bloc product is just as valuable as everything else the company has delivered. And ultimately, that alignment of values in every aspect of their business, from marketing to product, is how Techo-Bloc continues to enjoy such growth.
Want to connect with Alex? Find him on LinkedIn or send him an email at [email protected].